Big 12 News
Felix Anudike-Uzomah Declares for 2023 NFL Draft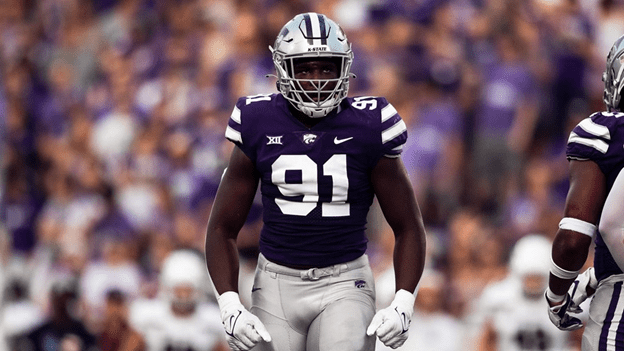 K-State's best defender is headed to the next level as defensive end Felix Anudike-Uzomah announced on Thursday that he is headed to the 2023 NFL Draft.
One of the best defensive linemen in K-State history, Anudike compiled 19.5 sacks over the last two seasons. In his sophomore season in 2021, Anudike totaled 11 sacks which ranked among the best in college football and led the Big 12 conference. In 2022, he was a major part of the Wildcats' run to its first outright Big 12 championship since 2003.
Now, with a total of 20.5 sacks in three seasons, Anudike ranks sixth all-time on K-State's sack total list.
A product of Lee Summit High School in Kansas City (MO), Anudike was originally committed to play for Chris Klieman at North Dakota State. However, when Klieman took the K-State job he kept tabs on the underrated three-star prospects and a few months later Anudike was a Wildcats' pledge.
Since then, Anudike has turned into one of the most-feared pass rushers in college football, and at 6-4, 255 pounds, he has all the potential in the world to be an edge player for an NFL franchise.
Felix Anudike-Uzomah earned Big 12 Defensive Player of the Year honors in 2022 and was a first-team all-conference selection in 2021, and will leave Manhattan as one of the best Wildcats in recent history.