featured
Markquis Nowell's Fast Start Has K-State Thinking Big in 2022-23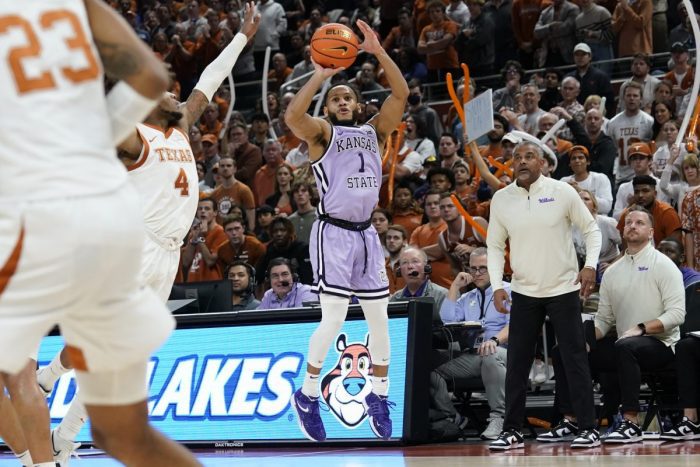 Let's talk about Marquis Nowell. K-State's dynamic point guard has been blistering hot during the first four games of the conference season, leading the Wildcats to a 4-0 record. Last week he was chosen Big 12 player of the week AND the national player of the week. In two ranked wins over Texas and Baylor, Nowell scored more than 68 points and dished out 23 assists. According to Sports Illustrated, the only two other division one men's players in the last ten years to accomplish that in a two-game stretch are Trae Young and Ja Morant. Both play in the NBA.
Nowell has been the best player in the Big 12 through four games. He is averaging 27.8 points and ten assists per game, leading the league in both categories. He has scored at least 20 points in every game thus far.
Nowell has been filling up the stat sheets and ranks prominently in a long list of league categories. Here is a sampling…
6th in the league in scoring (17.2 points per game).
8th in the league in three-point field goals per game (2.3).
2nd in the league in free throw percentage (.875).
1st in the league in assists per game (8.8).
2nd in the league in assist/turnover ratio.
2nd in the league in steals per game (2.3).
1st in the league in minutes played per game (35.1).

He also ranks 12th in the country in the assist-to-turnover ratio and 2nd in the country in assists per game.
Last season, Nowell had 136 assists in 27 games. This season, he has already surpassed that total with 140 assists in 16 games. You don't often see a point guard that leads their team in both scoring and assists when they are also leading the conference in both categories. The last K-State player to lead the team in both points and assists? Jacob Pullen in 2010-11, when he averaged 20.8 points per game and had 107 assists. Nowell already has 19 more assists than Pullen had that season, so he's dishing the ball out at a much higher rate than Pullen.
What I like about Nowell is the confidence he is playing with right now. He's not afraid to take the open shot, but he does also not avert to finding and passing the ball to the open man. He is playing unselfish basketball while putting up a lot of points at the same time. Can he keep up the pace? Well, after two straight 30-point games, he scored 20 points on five three-pointers and had seven assists and two steals against Oklahoma State on January 11, so I wouldn't put anything past him. I can't remember a more impressive four-game stretch by a Wildcat since Michael Beasley was playing on the court for the Wildcats.
Marquis Nowell and Keyontae Johnson are a potent one-two punch that makes K-State a contender to win the Big 12 conference. Speaking of Johnson, he is having a great season as well, He is fourth in the conference in scoring (20.5 PPG) and fourth in rebounding (7.5 RPG) during conference games. If these guys keep up this spectacular play, it will be a fun season in which every game matters in pursuit of the conference title. And dare I say, can this team make a run in March? Let's not get ahead of ourselves. Yet.