Big 12 News
NIL Collective Offers Deal to Entire Oklahoma Football Roster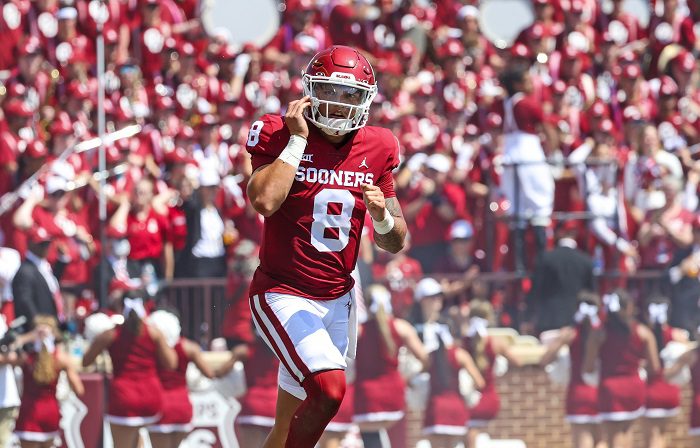 The Oklahoma-focused NIL collective known as Crimson and Cream launched back in September and went on a fundraising campaign that generated $1.6 million in annual donations through their website.
Now, it will put that money to work as the collective announced on Friday it has signed or has offered an NIL deal to the entire 115-man Oklahoma football roster, according to On3's Jeremy Crabtree.
 The deals include every player currently on scholarship, walk-ons, transfers and even mid-year recruits enrolled for the spring semester.
"Every single student-athlete – scholarship or non-scholarship walk-on — are getting this opportunity," Crimson and Cream and CEO Jason Belzer told On3.
"Everybody. All the portal kids. All the mid-year freshmen that are enrolling early. I don't know what other schools have done. But I think we're the first – if not one of the first – school to have everybody on a FBS roster fully signed to what is a multi, multi-million-dollar payroll."
According to On3, Belzer says that more than half the team has already officially signed NIL agreements with Crimson and Cream and expects the remainder of the team to have their deals signed within the next couple of weeks.
Oklahoma quarterback Dillon Gabriel announced on Friday that he has signed his deal with the collective, marking the Sooners most-marketable player as a part of this historic deal.
When the fundraiser was announced last year, Belzer challenged Sooner Nation to step up and become the difference-maker that the Sooners need to stay on top of the NIL.
"Oklahoma has had success with NIL, but now is the time for us to ramp up our efforts to lead in this space," Belzer told On3. "With the addition of Crimson and Cream and the consistent support of OU fans, the possibilities for success both on and off the field are quickly accelerated and visible to OU's global fanbase.
"Sooner Nation can be the difference-maker for OU. NIL is constantly changing for the betterment of college athletes and together we can help Oklahoma create the most robust NIL program for its student-athletes in the country."
Now, that fundraising has brought a new deal to Norman for every player on the roster, and that has to speak volumes to other players and programs across the nation.