Big 12 News
Brock Purdy Wins First NFL Playoff Start for 49ers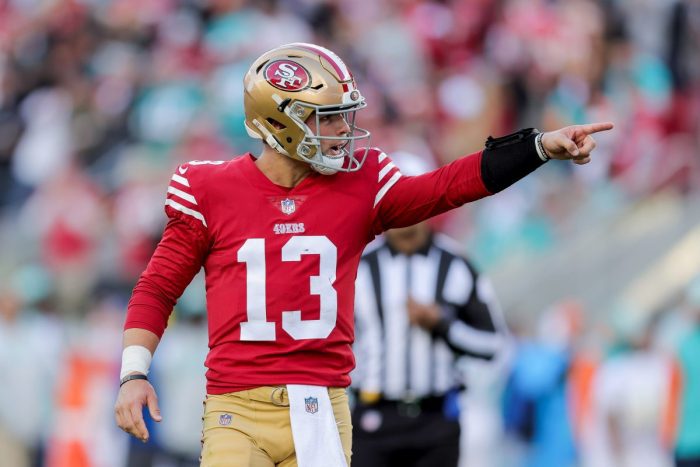 Former Iowa State quarterback Brock Purdy added another first to his young NFL career, as he won his first playoff game for the San Francisco 49ers.
The 49ers defeated the Seattle Seahawks, 41-23, in a NFC Wild Card playoff game. Purdy's win came at the expense of the Seahawks and another quarterback from a Big 12 team, Geno Smith, who played for West Virginia. There are five former Big 12 starting quarterbacks in the NFL playoffs, the most of any conference.
Purdy went 18-for-30 passing for 332 yards and three touchdowns without an interception. He also rushed for a touchdown. He threw for the second most yards ever for a rookie in the playoffs to Russell Wilson's 385 in a loss to the Atlanta Falcons 10 years ago. Purdy also became the first rookie QB ever to account for four TDs in a playoff game.
Smith went 25-of-35 for 253 yards with two touchdowns and one interception for the Seahawks. Smith was making his first NFL start in his 10th NFL season.
Since Purdy took over the job for the injured Jimmy Garoppolo during the Niners' game with the Miami Dolphins on Dec. 4, the Niners have won seven straight games. Purdy has now won his first six starts after taking over the job.
The Niners advanced to the divisional round, where they will host either the Minnesota Vikings, Tampa Bay Buccaneers or Dallas Cowboys next weekend.
Purdy was the final pick of the 2022 NFL Draft, the so-called "Mr. Irrelevant." He ended up making the final roster, and then took over as Garoppolo's backup when starter Trey Lance was hurt early in the season.
Purdy finished his Iowa State career owning or sharing 32 school records. He was the winningest quarterback in school history with a 30-17 record. He was 24-11 vs. Big 12 teams and had a 16-1 record as ISU's starting QB vs. Big 12 opponents in Jack Trice Stadium. He started 46 straight games to end career.
He owns virtually all career school passing records, including passing yards (12,170), total offense (13,347), touchdown passes (81), touchdowns responsible (100), completions (993), passing efficiency (151.1) and completion pct. (67.7).
You can find Matthew Postins on Twitter @PostinsPostcard