Iowa State Cyclones
Five Former Big 12 Quarterbacks Starting NFL Playoff Games, Most of Any Conference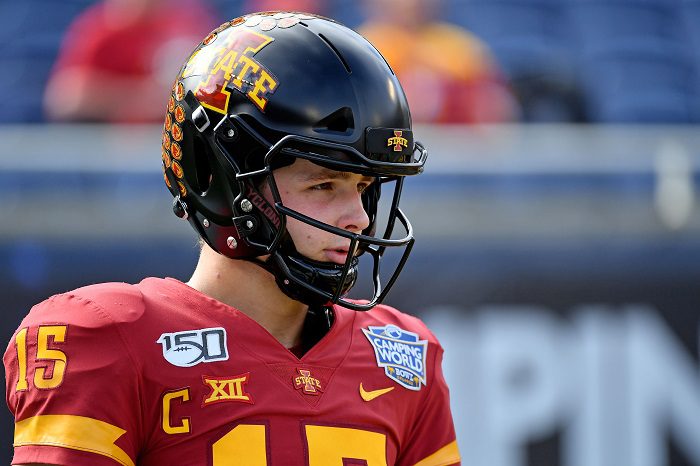 The NFL Playoffs are set to get underway this weekend and the Big 12 Conference has great representation at the most important position on the field.
Five of the 14 teams to make the NFL Playoffs are being led by Big 12 quarterbacks. These teams include the Kansas City Chiefs, Miami Dolphins, Philidelphia Eagles, San Fransico 49ers, and the Seattle Seahawks.
The list of quarterbacks, along with their Big 12 teams, are Patrick Mahomes (Texas Tech), Skylar Thompson (Kansas State), Jalen Hurts (Oklahoma), Brock Purdy (Iowa State), and Geno Smith (West Virginia).
The Big 12 has a sizeable lead over any other conference in terms of starting playoff quarterbacks with five, followed by a four-way tie between the PAC-12 (Tyler Hundley, Justin Herbert), ACC (Daniel Jones, Trevor Lawrence), SEC (Joe Burrow, Dak Prescott), and Big 10 (Kirk Cousins, Tom Brady). The Mountain West Conference follows up with one starting NFL Playoff quarterback (Josh Allen).
For a football conference that often gets dragged in the media for being unable to compete with other conferences, to have five quarterbacks starting for NFL playoff football teams is a great look.
As for when each of these players are on the field this weekend, two of them, Mahomes and the Chiefs, along with Hurts and the Eagles, have a bye week, while the other three are in action Saturday or Sunday.
San Fransico 49ers – Saturday, January 14th at 3:30 PM vs. Seattle
Seattle Seahawks – Saturday, January 14th at 3:30 PM vs. San Francisco
Miami Dolphins – Sunday, January 15th at 12:00 PM vs. Buffalo