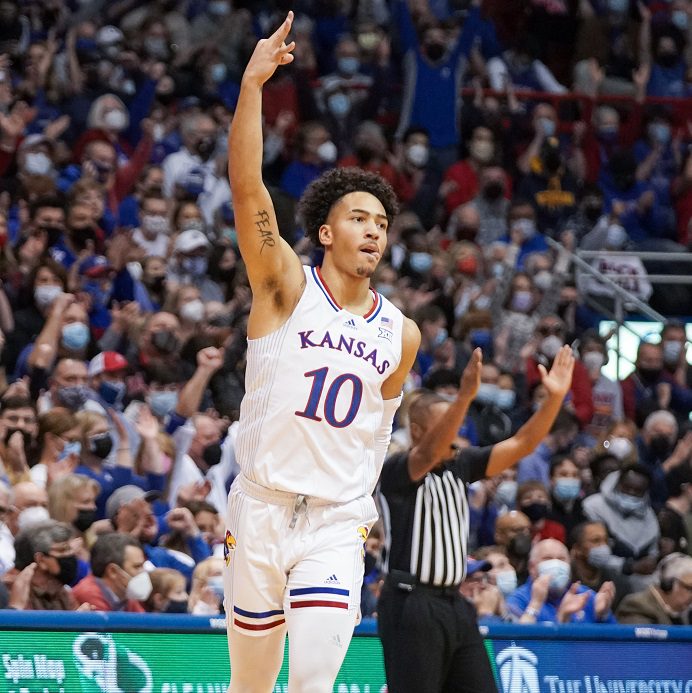 The No. 2 Kansas Jayhawks beat the No. 14 Iowa State Cyclones, 62-60, at Allen Fieldhouse in Lawrence, Kan., on Saturday afternoon. Here are three thoughts on this Big 12 Conference game.
Kansas (16-1, 5-0 in Big 12) is now 6-0 in games decided by five points or less this season and 302-16 at Allen Fieldhouse under head coach Bill Self. Kansas has won 16 straight at home.
Iowa State (13-3, 4-1) lost its first Big 12 game and fell short of engineering a 5-0 start in Big 12 play for the first time in school history.
How Kansas Won
KJ Adams had a lot to do with it. He finished with 15 points and six rebounds. But, the second-year forward had a pivotal role down the stretch.
He pushed Kansas' lead to 60-57 with 1:03 left after he drew a foul while going up for a rebound with Iowa State's Osun Osunniyi, which turned out to be the latter's fifth foul. Adams could have iced it there, but he only made one free throw to push the lead to three. Iowa State's Gabe Kalscheur then hit a 3-pointer at the other end to tie the game and Kansas took a time out with 29 seconds left.
Out of the time out, the ball eventually got to Adams about 10 feet away from the basket. He drove with ISU's Robert Jones defending him and made a layup with 11 seconds left to put Kansas up by two. After an Iowa State time out, the Cyclones' Caleb Grill attempted a long 3-pointer that failed to fall. Adams, naturally, got the rebound as the buzzer sounded.
Kansas shot 46 percent for the game, but found the points hard to come by against Iowa State, which was a Top 5 defensive team in KenPom coming into the game. The Jayhawks leaned hard on Jalen Wilson, who had a double-double with 16 points and 11 rebounds, and freshman Gradey Dick, who had a team-high 21 points.
Kansas also limited its turnovers to 12.
How Iowa State Lost
The Cyclones had it on Kansas in several key categories in this game. They did a great job inside, outrebounding Kansas, 37-32, and 13-6 on the offensive end. ISU had nine bench points to Kansas' two, while the Cyclones outscored Kansas in the paint, 30-24.
Kalscheur is having the best run of his college career right now. He finished with 23 points and hit some key baskets down the stretch. Osunniyi gave ISU quality minutes, scoring 14 points and grabbing six rebounds before fouling out. Jones had nine rebounds. ISU shot 38.3 percent for the game, but 46.4 percent for the second half.
Frankly, the Cyclones had the Jayhawks in position to get a little revenge for last year's game. So what happened?
Iowa State had a few too many turnovers down the stretch. The Cyclones had a scoring drought of more than three minutes before Kalscheur hit his game-tying trey.
If Iowa State has a couple fewer turnovers down the stretch, or doesn't go three minutes without a field goal, it could have won.
The Last Team Standing
Kansas State lost to TCU as Kansas and Iowa State tipped off, ensuring the winner of Saturday's game would be the only remaining undefeated team in the Big 12.
So Kansas is the last team standing. That almost sounds inevitable. But, this was not an inevitable week for the Jayhawks.
Oklahoma could have — and one could say should have — upset the Jayhawks on Tuesday, up 10 points with four minutes to play. But the Sooners couldn't hang on. Iowa State had a chance to win on Saturday but made just a few too many mistakes down the stretch.
Remember the opener? Oklahoma State had a double-digit lead at halftime. Plus, Kansas only beat Texas Tech on the road by three.
The league is a meat-grinder. Everyone knows it. Kansas is just finding a way to survive … so far.
You can find Matthew Postins on Twitter @PostinsPostcard