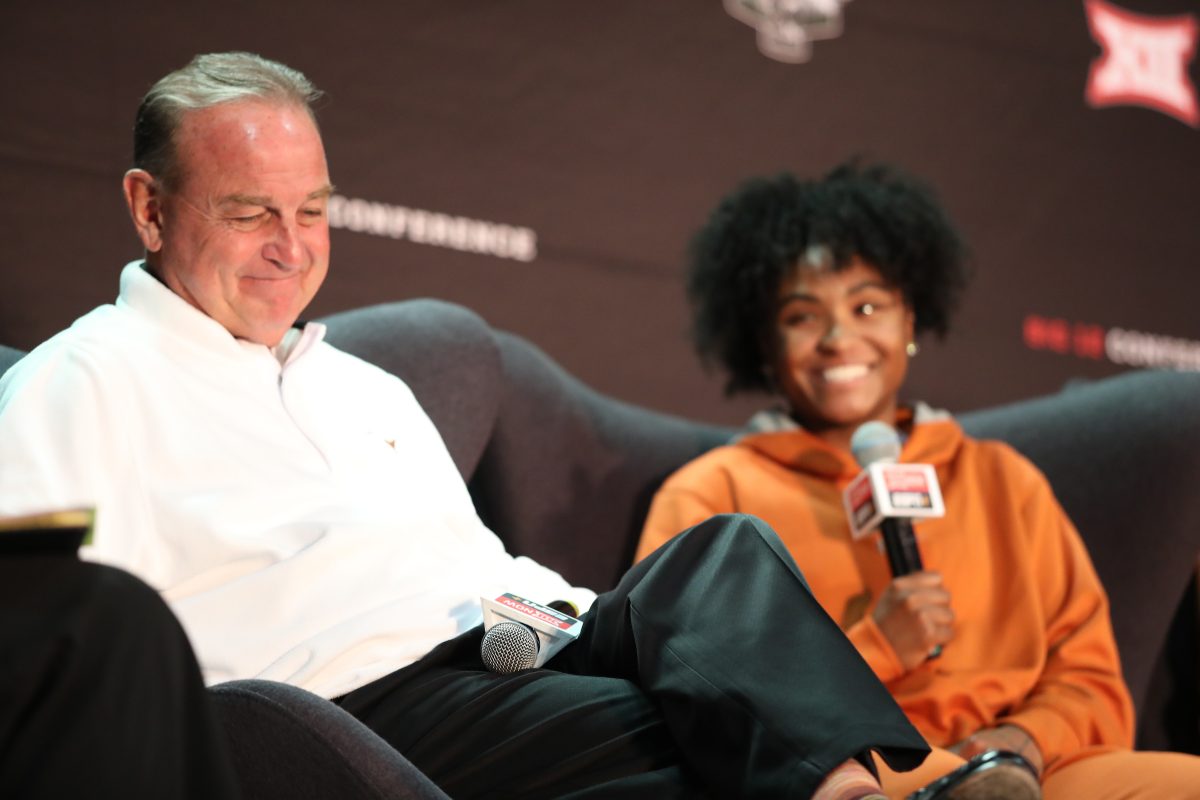 The Texas Longhorns beat the No. 15 Iowa State Cyclones, 68-53, in a Big 12 women's basketball matchup at the Moody Center in Austin, Texas, on Sunday. Here are three thoughts on the game.
Texas (13-5, 4-1) beat Iowa State for the seventh straight time. Three of those meetings were last season, including a Big 12 Tournament semifinal game that went to overtime.
Iowa State (11-4, 3-2) lost for the second time in three games, and for the first time in a full game since the loss of center Stephanie Soares to a season-ending injury.
How Texas Won
Texas owned the first and fourth quarters of this game, and it showed in the final result. Texas outscored Iowa State, 23-15, in the first quarter, and 16-6 in the fourth quarter. It was a hot start and a hot finish. In between, Texas held serve.
Texas implemented a full-court press the entire game, with an emphasis on defending the inbound pass and forcing Iowa State to eat up clock on the offensive end. That shortened possessions for the Cyclones, whose shooting struggled in comparison to the Longhorns (Texas shot 50 percent to Iowa State's 40 percent).
Ball movement on the offensive end was key, too. Texas faced several different defenses from Iowa State and handled them well, despite 16 turnovers. It did help that Texas forced 20 on defense.
DeYona Gaston had another huge game for Texas. She's been their leading scorer in three of their last four games including Sunday. The forward finished with 17 points and three rebounds. She also blocked two shots and she drew Iowa State's Ashley Joens on defense. She did about as good a job as one could do on the All-American.
Shaylee Gonzalez and Sonya Morris — two players who transferred to Texas before the season — had 11 points each. Rori Harmon only had six points, but she had seven rebounds and seven assists.
How Iowa State Lost
Well, the first and fourth quarters absolutely hurt them. But Joens was the only Iowa State player that scored in double figures and that can't work if the Cyclones expect to go deep in March.
Joens had 21 points and six rebounds. But down the stretch Texas made it hard to get Joens the ball and the other leading scorers — Lexi Donarski and Emily Ryan — just weren't able to produce. Donarski struggled with her shot from deep and had seven points on 2-of-12 shooting. Ryan had nine points with three assists. Ryan also had three steals.
The 6-foot-6 Soares was supposed to be the difference-maker in a game like this, and it was easy to see where ISU missed her. Texas won the rebounding battle, 34-29. The Longhorns also won points in the paint, 42-34. Izzi Zingaro gave the Cyclones some good minutes, scoring six points and grabbing four rebounds. But she doesn't have Soares' mobility nor her ability to stretch defenders out of the paint to create space for teammates.
ISU restructured its offense to integrate what Soares could bring them. With her gone, it will take time to restructure it again. But it's clear that until things balance out, ISU has to have Joens, Donarski and Ryan firing offensively at the same time.
Is Texas … Back?
Early this season, injuries and a lack of chemistry not only led to a slow start by Texas standards — a 3-4 record in its first seven games — but it also dropped Texas out of the AP Top 25.
Now, after beating Iowa State — a few days after beating another ranked team in Kansas — it's increasing clear that the chemistry set is working.
Texas has won 10 of its last 11, with the road loss to Oklahoma State last weekend the only defeat. The Longhorns have rebounded from the loss of forward Aaliyah Moore to injury and now have a rotation — both in the starting lineup and off the bench — that is humming.
Texas is starting to look like the team I thought they would be at the start of this season. Perhaps I gave them a bit too much benefit of the doubt, considering the four transfers. But now? With the meat of the Big 12 schedule ahead? A defense of their Big 12 Tournament title from last season looks far more likely than it did a few weeks ago.
You can find Matthew Postins on Twitter @PostinsPostcard