Baylor Bears
AP Top 25 Men: Kansas Stays Put, Big 12 Bunch, Baylor Joins the Show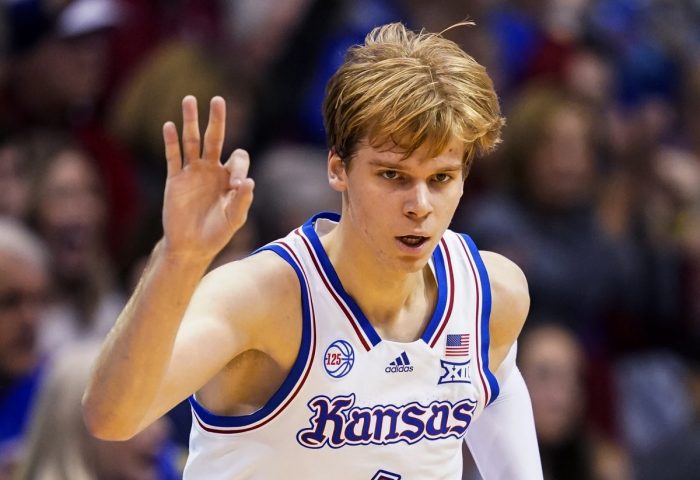 Six Big 12 teams are among the nation's best as the Associated Press Men's Basketball Top 25 was released after the season's 10th week of games.
Here are our three thoughts on the poll from a Big 12 perspective
Kansas Makes Up (A Little Ground)
If Houston is as good next season as it is now, then the Cougars will add to an already powerful conference.
The Cougars are still No. 1 and the Jayhawks are still No. 2, but the gap closed just a little this week. Kansas was 17 points behind last week. Now it's 14 points behind. Houston has 34 first-place votes and Kansas has 23. The Jayhawks likely lost a little ground when three voters gave Purdue a first-place vote.
Given the quality of competition in the Big 12, I wonder if the longer this goes on if Kansas might siphon off more points from Houston and eventually overtake it altogether, even if both teams keep winning? We'll see. I think it's more likely Kansas loses before Houston for that exact reason — quality of competition.
The Big 12 Bunch
A funny thing happened this week — three of the six Big 12 teams were bunched together. Iowa State was No. 12, Kansas State was No. 13 and TCU was No. 14. The three teams were separated by 42 points.
Iowa State actually moved up two spots despite its two-point loss to Kansas on the road, as voters didn't punish them at all for falling to the nation's No. 2 team.
Kansas State fell two spots after losing by 14 to TCU. The Horned Frogs moved up three spots with the win over the Wildcats but didn't move up enough to overtake the Wildcats. TCU finished 18 points behind the Wildcats.
The AP poll is a fickle beast. If you believe in head-to-head matchups meaning something, then TCU should be in between Iowa State (which TCU lost to) and Kansas State (which it beat) this week.
But, like I said, the AP poll is a fickle beast.
And Baylor Makes Six
The Baylor Bears were absent from the AP Top 25 for one week. After beating West Virginia and Oklahoma State, the Bears went from receiving votes to No. 21. That's not a bad jumping back in point.
But let's be real — the Bears haven't beaten a ranked team in Big 12 action yet. Until they do, it's hard to say the Bears are 'back,' so to speak. Last week certainly helped them figure some things out, though.
This Week's AP Top 25 Poll
No. 1 Houston, No. 2 Kansas, No. 3 Purdue, No. 4 Alabama, No. 5 UCLA, No. 6 Gonzaga, No. 7 Texas, No. 8 Xavier, No. 9 Tennessee, No. 10 Virginia, No. 11 Arizona, No. 12 Iowa State, No. 13 Kansas State, No. 14 TCU, No. 15 UConn, No. 16 Auburn, No. 17 Miami (FL), No. 18 Charleston, No. 19 Clemson, No. 20 Marquette, No. 21 Baylor, No. 22 Providence, No. 23 Rutgers, No. 24 Florida Atlantic, No. 25 Arkansas. Big 12 teams receiving votes: Baylor, 93.
You can find Matthew Postins on Twitter @PostinsPostcard.