Baylor Bears
Big 12 Women's Basketball Power Rankings: Oklahoma Rises to Top Spot, Texas, Oklahoma State Climbing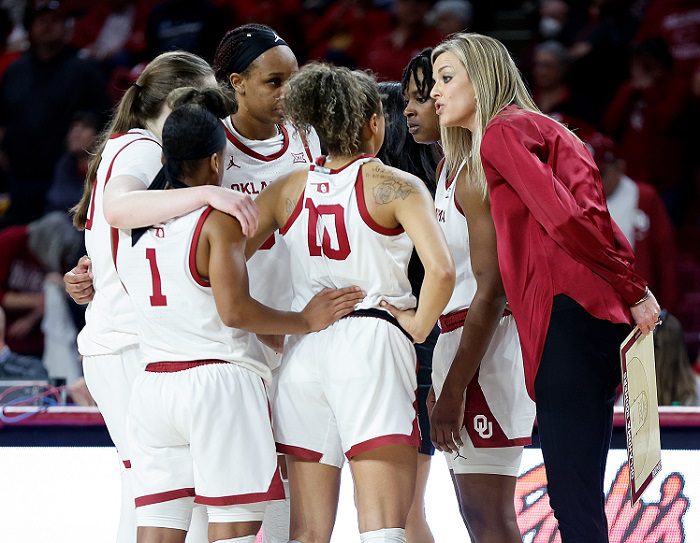 The Oklahoma Sooners are No. 1 in the Heartland College Sports Big 12 women's basketball power rankings after the second full week of Big 12 Conference action. Our Power Rankings appear every Tuesday.
Check out Heartland College Sports for men's and women's basketball coverage every day, including our thoughts on big games, the previous week's action, our weekly schedules and daily fantasy lineups as we march toward, well, March.
1. OKLAHOMA (14-2, 4-1: Last Week — 3)
The Sooners look like the deepest team in the conference right now. OU has recovered nicely from the Baylor loss and have won three straight. Guard Ana Llanusa is playing some of the best individual basketball in the conference. But players like forwards Liz Scott and Skylar Vann are giving this team a backbone that can help them win the big games coming up.
2. TEXAS (13-5, 4-1: Last Week — 6)
It's time to acknowledge that Texas is back to being one of the best teams in the conference. Back-to-back wins over ranked teams (Kansas and Iowa State) allowed the Longhorns to make a significant surge this week. It took longer than expected, but the chemistry is finally where it needs to be. Forward DeYona Gaston is playing impressive basketball right now.
3. OKLAHOMA STATE (13-4, 3-2: Last Week — 5)
The Cowgirls beat Texas and Baylor back-to-back. Then, the Cowgirls avoided the inevitable letdown game when they handled TCU easily. I think I underestimated the transfers that coach Jacie Hoyt brought in and the impact they would have right away. The team has four 1,000-point career scorers. It's paying off.
4. WEST VIRGINIA (12-4, 3-2: Last Week — 7)
The Mountaineers have won three straight since starting Big 12 action 0-2. The big win was over Baylor on Sunday, WVU's first win over Baylor in Morgantown. Coach Dawn Plitzuweit has this team moving in the right direction, with a nice blend of what former coach Mike Carey left and what she was able to bring in through transfers. But the holdovers are leading the way.
5. BAYLOR (12-5, 3-2: Last Week — 1)
Yes, Baylor was No. 1 last week. But the Bears fell to Oklahoma State and to West Virginia last week, so the Bears have to drop. It's a steep one because after beating two straight ranked teams the week before, they lost to two unranked teams this past week. Aijha Blackwell is back on the floor, and hopefully she can stay on the floor the rest of the season.
6. IOWA STATE (11-4, 3-2: Last Week — 4)
The Cyclones went 1-1 last week, but that loss to Texas on Sunday is the focus here. Ashley Joens had a fine game, but without Stephanie Soares, the Cyclones need Lexi Donarski and Emily Ryan to bring the offense. It's really the only way the Cyclones can hope to challenge for the Big 12 title. The Big Three have to come through every night.
7. KANSAS (12-4, 2-3: Last Week — 2)
Kansas has now lost four of its last six games, dating back to the triple-overtime loss to Nebraska on the road. The last three losses have come to Baylor, Texas and Oklahoma. That's significant competition. But, the Jayhawks are a ranked team and they have to prove they can win those kinds of games.
8. TEXAS TECH (14-4, 2-3: Last Week — 9)
The Lady Raiders are intriguing right now. The Lady Raiders challenged Oklahoma significantly at mid-week and then handled Kansas State with incredible games from both Bre'Amber Scott and Jasmine Shavers. I'm not ready to move them up much farther yet. But the way the Lady Raiders are starting to respond, chemistry-wise, is encouraging.
9. KANSAS STATE (12-6, 1-4: Last Week — 8)
This is quite what I expected from Kansas State after a strong start in non-conference. Gabby Gregory is still producing points, but the Wildcats definitely miss Ayoka Lee inside. In their four losses the Wildcats have lost the rebounding battle in each game.
10. TCU (6-10, 0-5: Last Week — 10)
TCU lost its two games last week by a combined 42 points. Those losses came against West Virginia and Oklahoma State, both on the road. TCU has now lost 19 straight games against Big 12 teams.
You can find Matthew Postins on Twitter @PostinsPostcard