Big 12 News
Oklahoma No. 1, Oklahoma State No. 3 in D1Softball's Preseason Top 25 Poll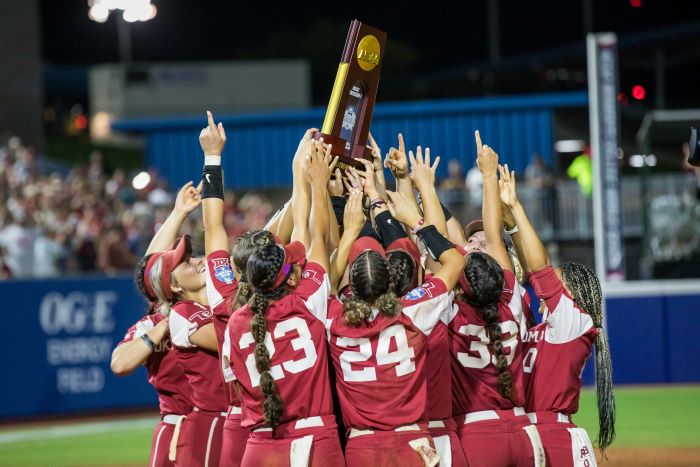 The back-to-back defending national champion Oklahoma Sooners are the unanimous favorite to make it three national titles in a row in 2023 as they were the unanimous No. 1 team in the D1Softball Top 25.
The Sooners return a significant amount of production from last year's championship squad despite losing Jocelyn Alo. The Sooners have 10 players in D1Softball's Top 100, led by Tiare Jennings (No. 1), Grace Lyons (No. 4), Cydney Sanders (No. 6), Jordy Bahl (No. 9), and Jayda Coleman (No. 15).
Just two spots behind the Sooners are the Oklahoma State Cowgirls at No. 3. Led by the top lefty in the country and No. 3 player in D1Softball's Top 100, Kelly Maxwell, the Pokes are poised to make another run to Oklahoma City behind a new crop of talented transfers. Kiley Naomi and Katelynn Carwile lead the returners in the field while incoming names like Rachel Becker (Purdue) and Megan Bloodworth (Alabama) will look to make immediate impacts for OSU.
Coming in at No. 14 are the national runner-ups from 2022, the Texas Longhorns. Hailey Dolcini is gone, but Estelle Czech and Sophia Simpson return in the circle while Mia Scott and Bella Dayton lead a field of returners that have championship-level experience.
Here's a look at the entire Preseason Top 25 Poll, courtesy of D1Softball.
Oklahoma
UCLA
Oklahoma State
Florida State
Florida
Alabama
Northwestern
Arkansas
Clemson
Georgia
Stanford
Tennessee
Virginia Tech
Texas
UCF
Kentucky
LSU
Arizona
Auburn
Louisiana
Washington
Duke
Oregon
North Texas
Ole Miss