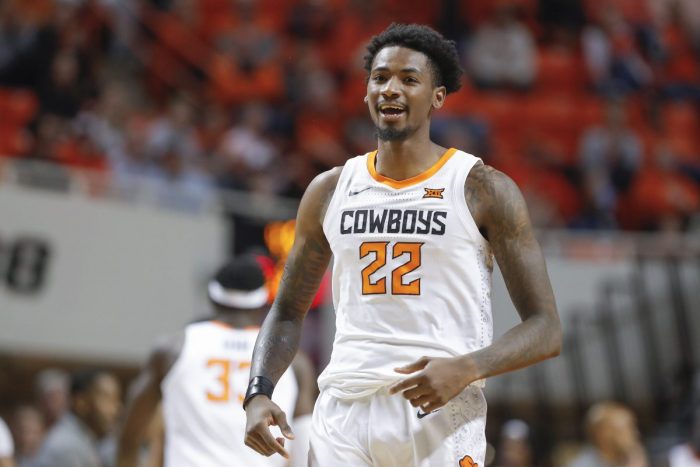 There are two Big 12 games in the Draft Kings Daily Fantasy Sports pool for men's college basketball as Big 12 play continues on Wednesday.
Those games include TCU at West Virginia and Oklahoma at Oklahoma State.
This season, when Big 12 games are part of the pool at Draft Kings, I'll provide my recommendations based on the lineup I'm playing that day. In this case, the recommendations are for a Classic game, which features eight players — three guards, three forwards, and two guards/forwards (utility). The lineup must contain players from at least two different games. The salary cap is $50,000.
The goal is to fill out a complete Big 12 lineup. With two games and four teams, I'll take two players from each team to fill out the lineup.
Here is Wednesday's lineup/recommendations:
Guards
Damion Baugh, TCU ($7,700), Grant Sherfield, Oklahoma ($7,400), Joe Toussaint, West Virginia ($5,300)
This was one of those interesting games in which most of the high-level Big 12 players cost about the same, cap-wise. So matchups are important. I think Mike Miles will draw West Virginia's best defender. That should give Baugh a bit more room to operate. He can hit every part of the scoring system, thanks to his passing and defense.
Sherfield has been one of the best scorers in the Big 12 this season. He's slumped a bit from the 3-point line, but he is still a 44 percent shooter for the season. Oklahoma State will have to extend its high-level perimeter defense to keep up with him.
Toussaint comes off the bench for WVU but he willingly accepts the role and is capable of dumping in points quickly for the Mountaineers. He doesn't need much playing time to make an impact and he comes cheap.
Forwards
Tre Mitchell, West Virginia ($7,200); Kalib Boone, Oklahoma State ($7,100), Eddie Lampkin Jr., TCU ($6,100)
Mitchell is capable of getting a double-double for WVU which can get you a bonus in this game. In fact, Mitchell has had two double-doubles in the last five games. Just as importantly, he is WVU's leading scorer and top interior player.
Boone benefits from the injury to Moussa Cisse, and it's not clear if Cisse will play on Wednesday. Boone dropped 23 points on Kansas State and had a double-double in the game before that. His shot-blocking is underrated.
Lampkin is coming off one of his best games of the season after scoring 17 points and grabbing six rebounds against Kansas State. Like Boone, Lampkin is an interior rim defender who can run the break and get physical inside. That will be a requirement on Wednesday against Jimmy Bell Jr. and the rest of the WVU forwards.
Utility
G Milos Uzan, Oklahoma ($5,100), G Caleb Asberry, Oklahoma State ($3,900)
Uzan is quite underrated. He's settled into the point guard role for the Sooners. He just had 11 points, nine rebounds, and five assists against West Virginia.
Asberry is a solid option for Oklahoma State. The Cowboys aren't scoring a lot of points right now, but Asberry has scored at least 14 points in each of his last two games. That's cheap offense.
–
Scoring system: Point: +1 Pt; Made 3pt Shot: +0.5 Pts; Rebound: +1.25 Pts; Assist: +1.5 Pts; Steal: +2 Pts; Block: +2 Pts; Turnover: -0.5 Pts; Double-Double (Max 1 Per Player: Points, Rebounds, Assists, Blocks, Steals) +1.5 Pts; Triple-Double: Max 1 Per Player (Points, Rebounds, Assists, Blocks, Steals): +3 Pts
You can find Matthew Postins on Twitter @PostinsPostcard