featured
Brock Purdy Was Never Really 'Mr. Irrelevant'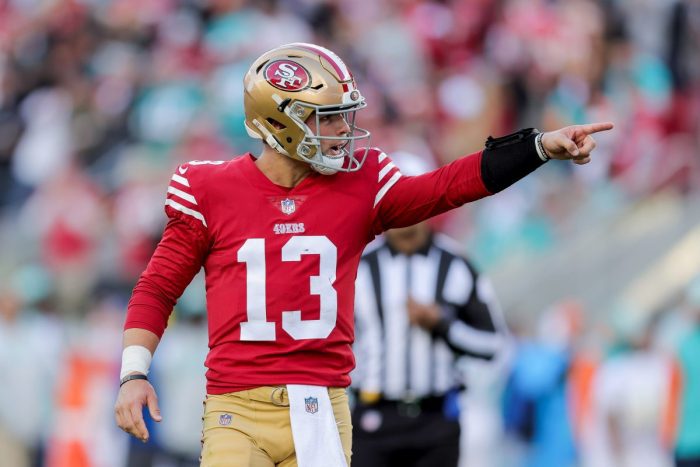 I covered the Tampa Bay Buccaneers for four years during the days of Jon Gruden and Derrick Brooks. I covered four Super Bowls and got to talk to plenty of football people.
I covered four NFL Drafts, too. That allowed me to ask questions to Bucs and NFL officials about their processes and what goes into selecting a player.
One thing was always crystal clear — if an NFL team drafts a player, they see something in that player. Teams don't throw away picks (at least not intentionally).
Not even the last pick of the draft, the player known to all as "Mr. Irrelevant."
The San Francisco 49ers saw something when they drafted Iowa State's Brock Purdy with the final pick in last April's draft. It may have been some of the same things those of us that cover or watch the Big 12 saw during his four seasons with the Cyclones.
I don't know what the 49ers expected from Purdy in Year 1. But it couldn't have been this.
Purdy should be holding a clipboard or maybe in street clothes on Sundays. But then Trey Lance had a season-ending right ankle injury early in the season.
Purdy should be wearing a headset and flashing signals at Jimmy Garoppolo. But Garoppolo got hurt against Miami last month, suffering a fractured foot.
A seventh-round pick. A rookie. No NFL starts before December.
And then 'Brocktober' became 'Brockcember' and turned into 'Brockanuary.'
But this is the NFL. I once covered a season in Tampa Bay in which the Buccaneers used three different starters at quarterback — Chris Simms, Bruce Gradkowski, and Tim Rattay — and the Bucs went 4-12. Gradkowski was a rookie then.
Gradkowski — who was a sixth-round pick — didn't have it.
Purdy has IT.
And it hasn't taken long to figure that out.
Playoff debuts are when rookies can sometimes wilt. Purdy didn't. In fact, he had the second-best playoff debut of any rookie quarterback. Only Russell Wilson had a better one by yardage. No rookie quarterback accounted for four touchdowns in their debut the way that Purdy did.
Purdy hasn't lost a game since he took over as the starter. That's heady stuff for a rookie first-round pick to win six in a row.
You watch Purdy play for San Francisco and … he doesn't look any different than he did at Iowa State. Calm. In control. Accurate. Good pocket presence. Eludes pressure. Quicker than you think.
San Francisco surely saw all of that on tape before it drafted him. Surely head coach Kyle Shanahan went to his football staff after it was clear Purdy would start and told them to dive into tape again.
In fact, it's clear the 49ers did just that. Shanahan has tailored his play-calling to Purdy's best assets. He was always good at throwing on the move. Shanahan has increased the use of a moving pocket. He's implementing plays with quick reads to capitalize on Purdy's decision-making. He's also limiting the number of reads Purdy has to make before dumping the ball off.
This shouldn't be confused with game management. It's building on and amplifying what Purdy does best.
Now, certainly, he has a great team around him. The Niners have a quality running game, a superb group of receivers, an above-average offensive line, and a top-notch defense. That does make Purdy's life easier.
But, nothing can more easily complicate the life of a team as good as San Francisco than poor quarterback play. Purdy has to pull his weight.
Purdy has clearly done much more than that. He's played some of the best football in the NFL since he took over the job. Even if Garoppolo miraculously returns this season, Purdy should remain the starter.
Even if the season creeps into, you know, 'Brockebruary.'
Purdy isn't Mr. Irrelevant. He never was. The last player taken in each draft is selected because he has 'something.'
Purdy is the object lesson about why every draft pick matters.
You can find Matthew Postins on Twitter @PostinsPostcard.