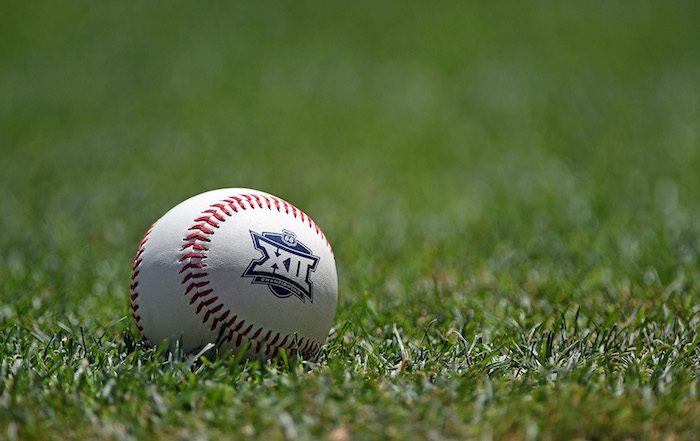 You know when D1Baseball releases their Top 25 that means that college baseball is right around the corner. We are a little over four weeks from the start of the season, but it is never too early to look at some of these Big 12 teams.
There were three Big 12 schools (#9 Oklahoma State, #15 TCU, and #24 Texas Tech) that cracked the top 25 however there were some big names left out. Here are my five thoughts on their rankings. 
1. The SEC is Still King
While many of us know that the SEC wins just about every football title, some may not realize just how good the SEC is in baseball. Last season, Ole Miss took home the gold against Oklahoma and once again, the SEC is loaded as seven of the top ten teams hail from the Southeastern Conference. LSU sits at number one while Tennessee is right behind them. Those two will be the favorites to win it all this season but keep an eye on Ole Miss, Texas A&M, Arkansas, Florida, and Vanderbilt who are all also in the top ten. While I am not a fan of the SEC, I must admit that they run college baseball.
2. Is This Oklahoma State's Year?
The Cowboys are the only Big 12 school in D1Baseball's top ten which isn't too surprising considering what they bring back offensively. While they will lose the power bats of Griffin Doersching, Jake Thompson, and Caeden Trenkle they still have superstar Nolan McLean, Roc Riggio, and David Mendham coming back. Those three combined with leadoff man Zach Ehrhard make a dangerous lineup for any opposing pitcher. This offense isn't just the best in the Big 12 because they may have the best bats in all of college baseball. However, the question of this team will be the pitching as they lost their entire starting rotation from a year ago including All-American Justin Campbell.
3. Can TCU Repeat as Big 12 Champs?
Last season we learned that this program will be perfectly fine under head coach Kirk Sarloos who took over last season after longtime coach Jim Schlossnagle left for Texas A&M. Much like Oklahoma State, TCU has a good core of players coming back. All-American third baseman Brayden Taylor returns alongside Elijah Nunez, David Bishop, and Kurtis Byrne. And just like the Cowboys, the Horned Frogs need to replace most of their pitching from a year ago. Riley Cornelio, Austin Krob, Marcelo Perez, and Brett Walker are gone but Cam Brown and Luke Savage return. TCU was also able to add a few transfers as well which should round out the pitching staff. This team found a way during the regular season last year to win a Big 12 title, but can they do it again this year?
4. Can Texas Tech Reload Again?
It seems like no matter who Texas Tech loses; they are able to replace them. The Red Raiders have had some great players of the years and somehow head coach Tim Tadlock finds a way to make it work every year. Tech must replace 41 starts from last season as Brandon Birdsell, Andrew Morris, and Chase Hampton are all gone. On top of that, they lose superstar Jace Jung as well as Cole Stilwell, Easton Murrell, Kurt Wilson, and Parker Kelly. That kind of production isn't going to be easy to replace on the diamond. There are going to be a bunch of new faces in Lubbock this season but it's hard to doubt a program that has made the NCAA Tournament in six straight seasons.
5. Where are Texas and Oklahoma?
Most people who follow college baseball are familiar with the Texas Longhorns. They are one of the premier programs in the entire country yet the didn't crack the preseason top 25. Why? The Longhorns are having to replace nearly they entire starting lineup from last season including Golden Spikes Winner Ivan Melendez.
Oklahoma is a in a similar spot after their incredible run to Omaha last season. The Sooners were picked to finish sixth in the Big 12 last year and they caught fire in the month of April that carried them all the way to national championship where they fell to Ole Miss. Skip Johnson certainly has his work cut out for him in 2023 but don't be shocked to see them overachieve once again.