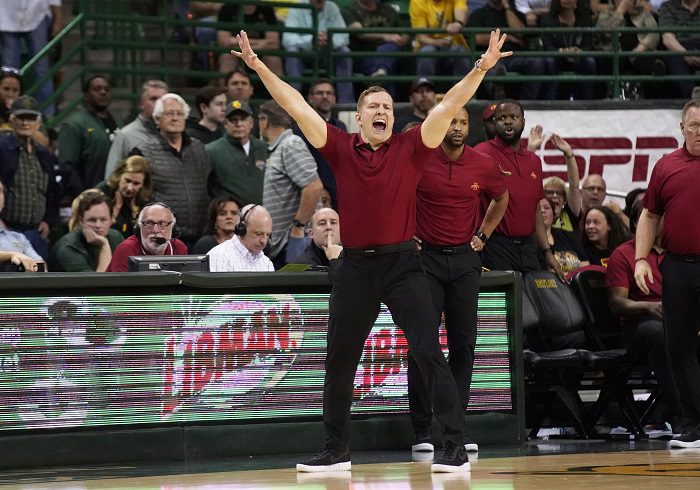 The No. 12 Iowa State Cyclones are 4-1 in Big 12 action after its 78-67 victory over the No. 7 Texas Longhorns on Tuesday night.
With the win — coupled with No. 13 Kansas State's overtime win over No. 2 Kansas on Tuesday — the Cyclones (14-3, 5-1) are tied for the Big 12 lead with the Wildcats and the Jayhawks.
Here are three reasons why the Cyclones are where they are in Big 12 action, which dove-tails nicely with ISU's win over Texas.
The Guards Shall Lead
Iowa State's triumvirate of veteran guards are getting it done and all three flat-out brought it on Tuesday night.
Jaren Holmes led the way for ISU with 21 points, along with three rebounds, two assists and a steal. He transferred in from St. Bonaventure and he seems to fit Iowa State like a glove.
The Cyclones needed Holmes to keep them in the game in the first half as Texas built up a significant lead.
"He knows there's times we need him to step up and make big plays and big shots," Iowa State coach T.J. Otzelberger said. "And he did that through those stretches."
Gabe Kalscheur has improved his scoring significantly in Big 12 play, both overall and from the 3-point line. He scored 16 points on Tuesday, with more than half of that coming on 3-pointers. Kalscheur, of course, hit the game-winner against TCU on the road and hit what could have been the game-winner against Kansas last weekend.
Otzelberger said there isn't a player that he's been around that works harder than Kalscheur, a holdover from last year's Sweet 16 team.
"It's awesome to see because his confidence is sky-high and he earns it and he fights for it and he works for it," Otzelberger said.
Then there's Caleb Grill, who started his career at ISU, transferred to UNLV to play for Otzelberger and then transferred back to ISU when Otzelberger took the Cyclones job.
Grill scored 17 points, connected on three 3-pointers and grabbed six rebounds. Plus he also brought the swag when he hit a big 3-poitner late against the Longhorns.
It's this veteran group of guards that is leading the way, and all three have turned up their play in league action.
"We've got a veteran group and we've got guys that are really mature and they put a lot of into each other and a lot into the game," Otzelberger said.
Tamin Lipsey Is Growing Up
Yes, Lipsey is a guard. But he's a true freshman. And when you're play at Ames High School, was named Iowa's Mr. Basketball and you choose to stay home to play for ISU, there's a certain level of pressure attached to it.
Lipsey started the season slow, but he's coming on in Big 12 play. He had just six points against Texas, but he also had three rebounds, six assists, three steals and even a blocked shot. He also, at times, had to defend Texas guard — and former Iowa State guard — Tyrese Hunter, who just happens to be the player Lipsey basically replaced.
The Cyclones don't necessarily need him to score a ton of points — see above — but they need him to dish. And the last three games he's dished out 20 assists against 10 turnovers.
"Winning," Otzelberger said about Lipsey. "I'd say Tamin, however he does it, finds a way to do what he needs to help his team win."
Otzelberger went on to say that his team showed a lot of command and poise on defense on Tuesday and that Lipsey was at the top of that list.
As a coach I used to cover liked to say, "That's a FRESHMAN!" Indeed it is, and he starting to play with maturity beyond his classification.
Osun Osunniyi Is Coming On Strong
Osunniyi is the other St. Bonaventure transfer and for much of the season Holmes has overshadowed him. That's starting to change.
Osunniyi had a great game for the Cyclones at center — 11 points, seven rebounds, an assist, a steal and a block. He played 25 minutes and managed to not foul out. In his last five games, he's averaged 9.2 points and 5.8 rebounds. His season averages are 8.6 points and 3.8 rebounds.
When Osunniyi really produces he also manages to stay out of foul trouble. But Iowa State also has a better feel for what works for Osunniyi, especially on the offensive end.
'He's a weapon," Otzelberger said. "I mean he can catch that ball at the high post area and we've really started to utilize him there. He can drive to score, get to the foul line, knock down the shot in the mid-range and the floater. When he's facing the goal he's really good and he gave us a spark."
Those are just three reasons why the Cyclones are in the hunt for a Big 12 regular-season title in mid-January.
You can find Matthew Postins on Twitter @PostinsPostcard.