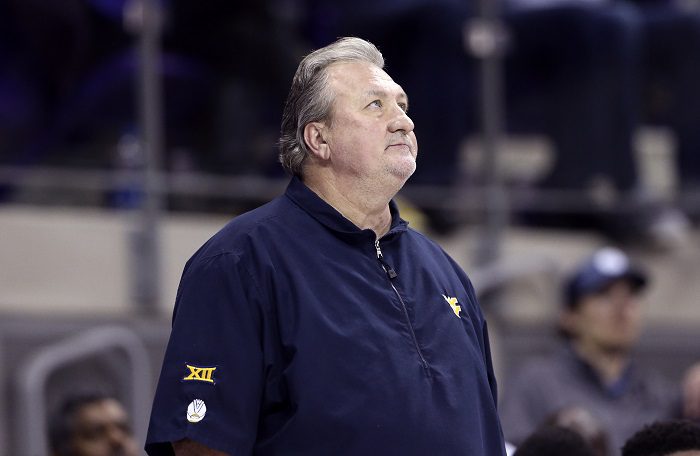 The West Virginia Mountaineers beat the TCU Horned Frogs, 74-65, at WVU Coliseum in Morgantown, WV, on Wednesday night. Here are three thoughts on this Big 12 Conference game.
No. 14 TCU (14-4, 3-3 in Big 12) fell two games behind Big 12 co-leaders Iowa State, Kansas and Kansas State going into its trip to Lawrence on Saturday to face No. 2 Kansas.
West Virginia (11-7, 1-5) continued its mastery of TCU in Morgantown. The Mountaineers are 11-0 against TCU at WVU Coliseum. The Mountaineers won their first Big 12 game in 319 days.
How West Virginia Won
Well, that first half was incredible. The Mountaineers shot out of the gate, built an 18-point lead and led 39-24 at the break. WVU coach Bob Huggins couldn't have drawn it up much better. His guards were shooting well. Center Jimmy Bell Jr. was dominating inside, even after missing a few minutes to change his No. 15 jersey to No. 43 after he got some blood on it.
There was desperation to their start, and the Mountaineers were desperate after losing their first five Big 12 games (four by two possessions or less).
In the second half, as TCU started trimming the lead, the Mountaineers got tougher. When they lost Tre Mitchell to a fifth foul — the result of a technical foul after gesturing to an official that he was being hit on his arm — Bell and Mohamed Wague picked up the slack. When the Horned Frogs cut it to two, Kedrian Johnson took over and scored a career-high 20 points, which included a 10-for-10 game at the free-throw line.
Even though West Virginia didn't hit a field goal in the final 2:35, the Mountaineers kept driving, kept getting fouls and kept making free throws. WVU was 20-of-26 for the game. Half of West Virginia's 12 points down the stretch were on free throws.
Bell had his second double-double with 15 points and 12 rebounds. Emmitt Matthews Jr. added 10 points.
How TCU Lost
There are things that TCU does well and those things didn't happen, much of that due to West Virginia. TCU is the best fast-break team in college basketball, scoring 22 points per game on the break. The Mountaineer defense managed to slow that break down to just eight points. A couple of things have to happen to support that. First, the Mountaineers have to shoot the ball well, which they did for much of the game (they finished at 47 percent). Second, the Horned Frogs have to shoot poorly, which they did much of the first half in scoring a season-low 24 points.
But, WVU also did a great job of getting back on defense and covering up passing lanes that could have allowed for more fast-break points.
With all that, TCU nearly rallied and cut the Mountaineers' lead to two points with 5:08 left. That was due to the Horned Frogs making 11 of their first 13 shots in the second half. But TCU couldn't get the game tied, no matter how hard it tried.
TCU's 18 turnovers didn't help, in part because WVU turned those into 24 points.
Mike Miles led with 21 points on 8-of-12 shooting, while Emanuel Miller and Damion Baugh each had 13 points. The Horned Frogs lost center Eddie Lampkin Jr. to fouls midway through the second half.
And Now, for WVU's Next Trick …
West Virginia will host Texas on Saturday. So, with one win under its belt, is it out of the question that WVU could claim another Top 25 win? Not if the Mountaineers play like that again.
But the TCU game was really the start of a larger stretch of basketball that will likely determine whether the Mountaineers play in postseason action beyond the Big 12 Tournament. Since it's the Big 12, it's ridiculous.
After Texas, the Mountaineers go to Texas Tech, followed by a home game with Auburn, a road trip to TCU, then home games against Oklahoma and Iowa State, followed by a road trip to Texas and Baylor.
That's all by Valentine's Day. Counting Wednesday's game, that's seven ranked opponents in nine games.
If WVU wants to go dancing, it's time to win some games. The hard work is nowhere near over.
You can find Matthew Postins on Twitter @PostinsPostcard