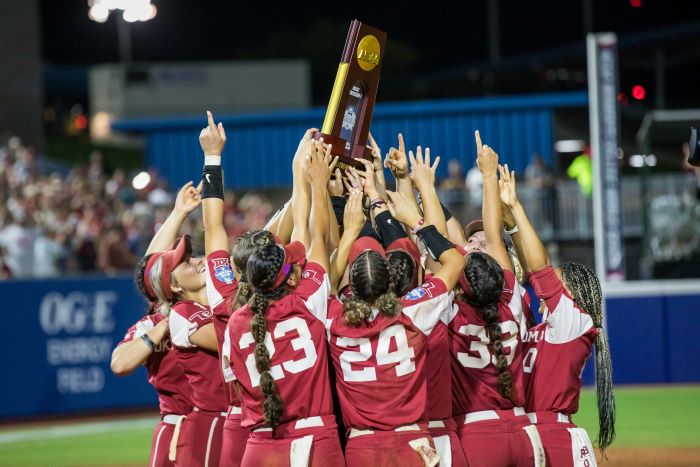 The Big 12 Conference has released the 2023 Preseason All-Conference team just about three weeks before the teams get the season underway.
The selections were made by a vote of the league's head coaches and players were picked regardless of position. Coaches were not allowed to vote for their own players.
Oklahoma leads all schools with seven selections (Jordy Bahl, Alyssa Brito, Jayda Coleman, Tiare Jennings, Haley Lee, Grace Lyons, Cydney Sanders) while Oklahoma State has two (Kelly Maxwell, Kiley Naomi). Baylor (McKenzie Wilson), Kansas (Olivia Bruno), and Texas (Mia Scott) each had one player selected.
10 of the 12 players selected were First or Second Team All-Big 12 in 2022, with the exceptions being Oklahoma's Haley Lee (2022 All-SEC First Team) and Cydney Sanders (2022 All-Pac-12 First Team). Over half of the team was either First or Second Team NFCA DI All-American last season.
Bahl was named the Big 12's Freshman and Co-Pitcher of the Year in 2022 while Lyons is the two-time defending Defensive Player of the Year and Maxwell was awarded Co-Pitcher of the Year.
The Big 12 softball preseason poll was released earlier this week, with Oklahoma being selected as the unanimous favorite to win the conference.
Here's a look at the full 2023 Preseason Big 12 Softball team, courtesy of the Big 12 Conference.
Name, School
Position/Year
Hometown
McKenzie Wilson, BU
OF/Jr.
Long Beach, Calif.
Olivia Bruno, KU*
UTL/So.
Topeka, Kan.
Jordy Bahl, OU*
P/So.
Papillion, Neb.
Alyssa Brito, OU
UTL/Jr.
Tustin, Calif.
Jayda Coleman, OU
OF/Jr.
The Colony, Texas
Tiare Jennings, OU*
INF/Jr.
San Pedro, Calif.
Haley Lee, OU
UTL/R-Sr.
Kingwood, Texas
Grace Lyons, OU
INF/R-Sr.
Peoria, Ariz.
Cydney Sanders, OU
INF/So.
San Marcos, Calif.
Kelly Maxwell, OSU*
P/R-Sr.
Friendswood, Texas
Kiley Naomi, OSU
INF/Gr.
Lafayette, La.
Mia Scott, UT*
INF/So.
Angleton, Texas