featured
Oklahoma State QB Spencer Sanders Transfers to Ole Miss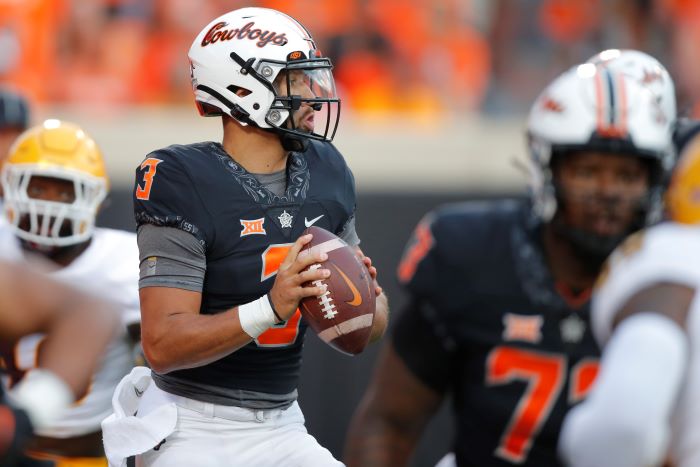 After weeks of waiting and several rumors coming and going, former Oklahoma State quarterback Spencer Sanders has announced that he will play for Lane Kiffin and the Ole Miss Rebels in 2023.
ESPN senior writer Chris Low was the first to break the news on Twitter, and in doing so surprised many around the country. Auburn was the expected landing spot for several people familiar with the situation, but it appears that Lane Kiffin, the transfer portal king, has struck again.
OIe Miss's starter in 2022 was none other than Jaxson Dart, a transfer from USC. Now, Kiffin will have Dart, Sanders, and another transfer in this cycle, five-star quarterback Walker Howard from LSU.
As Oklahoma State's starter from 2019-2022, Sanders played in 44 games and threw for 9,553 yards and 67 touchdowns with 40 interceptions and a 136.2 quarterback rating, adding 1,956 yards and 18 touchdowns on the ground.
In 2021, Sanders and a stout defense combined to carry Oklahoma State to a 12-2 record, including a win over Notre Dame in the Fiesta Bowl.
This past season, Sanders completed 212 of 368 attempts for 2,642 yards, 17 touchdowns, and nine interceptions, adding 391 yards and three scores on the ground. He dealt with a shoulder injury for the second half of the season and was forced to miss three games. With Sanders in the game, Oklahoma State went 7-3, and without him they were 0-3.
Sanders is not the guaranteed starter in Oxford this season and will need to beat out Jaxson Dart to win the job, but with just one year of eligibility remaining, he likely has a leg up in the competition or he wouldn't be headed to play for the Rebels with other schools interested as well.