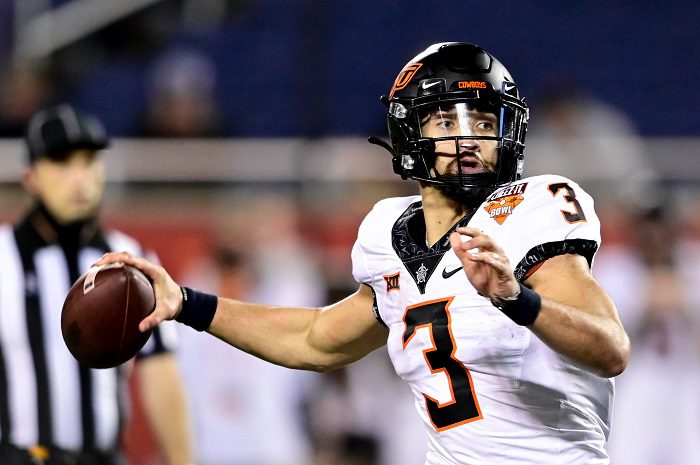 On Thursday morning, Spencer Sanders announced that he was heading to Ole Miss to play for Lane Kiffin in 2023.
Oxford has become a destination for the top transfer talent across the country, and Spencer Sanders is the latest talent to bet on himself and test his mettle under Kiffin.
OIe Miss's starter in 2022 was none other than Jaxson Dart, a transfer from USC. Now, Kiffin will have Dart, Sanders, and another transfer in this cycle, five-star quarterback Walker Howard from LSU. However, all that competition isn't scaring Sanders off.
"I'm going to come in and work my tail off either way, whether the room is packed or not," Sanders told 247Sports. "That's just my mindset. I've always had a mindset of competing, driving, striving for better. I've never shied away from competition. I'm not going to start now.
"I have a lot of self-confidence. I'm a big believer in myself. My money is on me every time. So, I wasn't too worried about what the quarterback room looks like. I've got pretty good experience. I've been in the game for four years. I feel like I've got a little bit of an edge."
Sanders takes plenty of experience with him to Oxford, as he was the starter at Oklahoma State from 2019-22, playing in 44 games and threw for 9,553 yards and 67 touchdowns with 40 interceptions and a 136.2 quarterback rating, adding 1,956 yards and 18 touchdowns on the ground.
While it was hard to leave Stillwater after being there for so long, Sanders did feel that it was time for a fresh start somewhere else, somewhere like the SEC West.
"I was grateful for my time (at Oklahoma State)," Sanders said. "I don't have too much bad to say. I'm grateful for the quarterback they've helped me develop into. Coach (Tim) Rattay has a lot of say into that. He's helped me develop over the years. I didn't want to leave him. I was sad to leave him. But, you know, maybe this is just for the better. I think it was time for me to split ways and try something new. Try to take my game to the next level.
"They say there's nothing like SEC play."