Baylor Bears
Big 12 Players Who Made PFF's Top 100 Prospects List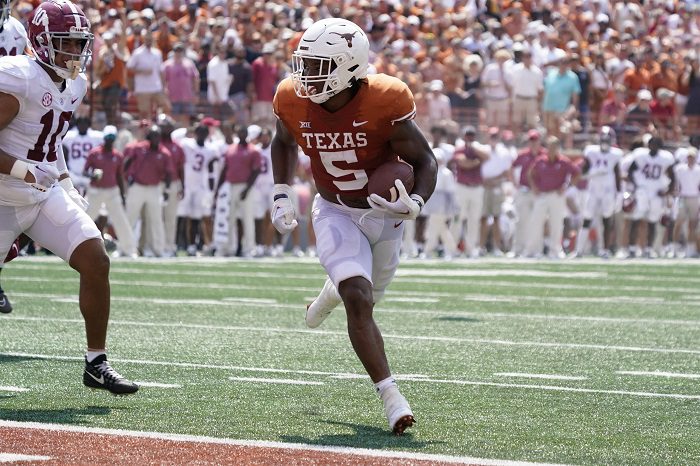 With the 2022 college football season in the books, it's time to move on to the next chapter for some of these players. We are just four months away from the 2023 NFL Draft where some of the best players in college football will get their chance to play professional football.
Until then, there is plenty of time for guys to improve their draft stock to rise up those boards. Earlier this week, Pro Football Focus released their top 100 prospects, and here are the Big 12 players who made the cut.
#7 Texas Tech LB Tyree Wilson
Tyree Wilson is not your typical linebacker because he is an edge rusher, and is a mountain of a man standing at 6'6, 275 pounds. Despite an injury cutting his season short, Tyree still had seven sacks in 2022 and earned my vote for Big 12 defensive player of the year. Without a doubt, Tyree Wilson will be a first-round pick.
#15 TCU WR Quentin Johnston
If you are looking for a physical freak at receiver, then look no further because Quentin Johnston is your man. He just had his best statistical season in Fort Worth as he caught 60 passes for 1,069 yards and 6 touchdowns. Johnston is a big guy who stands at 6'4 and really does a great job going up and getting the football.
#18 Texas RB Bijan Robinson
Not only does the Big 12 have one of the best pass rushers in college football but they were also home to the nation's top running back, Bijan Robinson. The star from Texas has it all. The size, the speed, and the agility. He literally is the total package at running back as he was named the best running back in college football winning the Doak Walker Award.
#21 Oklahoma OT Anton Harrison
Pro Football Focus loves this man, and he deserves the praise. Anton Harrison anchored the Sooners' offensive line this season and according to PFF, he allowed just nine quarterback pressures on 447 pass-blocking snaps.
#33 Baylor DT Siaki Ika
Despite weighing over 355 pounds, Siaki Ika is very quick in the trenches giving interior offensive linemen fits. After a great 2021 season, he had a bit of a down year this past year. Even though his 2022 season wasn't as good, Siaki Ika is still going to be a solid player at the next level.
#37 Iowa State DL Will McDonald IV
Much like Siaki Ika, Will's production slipped a bit this past season compared to his 2020 and 2021 seasons where he had a whopping 22 total sacks. Due to his size, Will is a very interesting prospect on the edge. Despite his sack numbers being down, McDonald IV is still the all-time sack leader of the Big 12 and still manages to get pressure on opposing quarterbacks using his speed.
#58 Kansas State DL Felix Anudike-Uzomah
There is a reason why many folks call this man King Felix. It's because he knows how to get to opposing quarterbacks. After leading the Big 12 in sacks in 2021, Anudike-Uzomah followed it up with an impressive 8.5 sack season this past year. Much like Will McDonald IV and Tyree Wilson, Felix is one of the best pass rushers in the country.
#58 Texas DL Moro Ojomo
Since he arrived at Texas back in 218, Moro has played a big role for the Longhorns. Ojomo played in 49 games during his five seasons in Austin. His best year came this past fall when he registered career-highs in tackles, tackles for loss, and sacks.
#76 TCU CB Tre'Vius Hodges-Tomlinson
It's about time a defensive back made the list, and they picked the right man. Tre'Vius Hodges-Tomlinson has been one of the best defensive backs in the Big 12 over the past few seasons and now it will be his time to show what he can do in the NFL.
#79 Texas LB DeMarvion Overshown
DeMarvion Overshown played a massive role in turning around the Texas defense in 2022. He totaled 96 tackles, 10 tackles for loss, and four sacks, earning first-team All-Big 12 honors this past season.
#82 Texas DL Keondre Coburn
While he had a year of eligibility remaining, Coburn decided to move on to the NFL. Much like his teammate Moro Ojomo. Keondre has been a staple of the Texas defense over the last couple of seasons.
#95 TCU OL Steve Avila
We have our second offensive lineman on the list with Steve Avila. He had a heck of a year in 2022 as he earned first-team All-Big 12 honors and was the first Horned Frog to be a consensus All-American since wide receiver Josh Doctson in 2015.