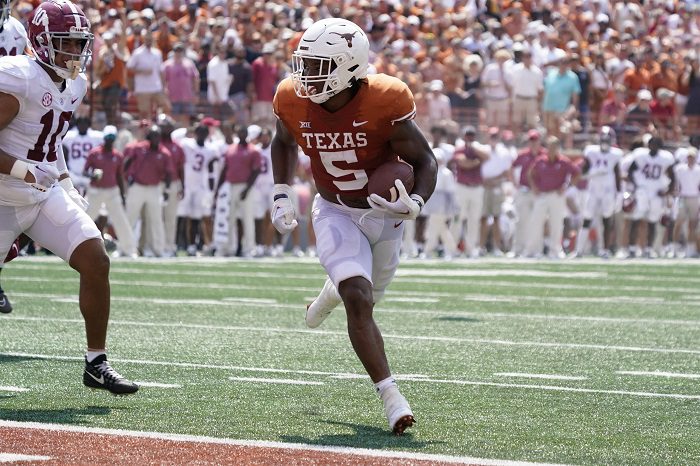 While many players dream to play in the NFL and want to take the quickest route to achieve their dreams, the addition of name, image, and likeness deals has drastically slowed down the number of NFL Draft early entries.
With college players being able to make money from NIL deals, many athletes are deciding to spend more time in college and continue to improve their draft stock all while being paid.
The Athletic's Stewart Mandel shared an interesting statistic on Twitter detailing the regressing number of early draft entries by year since the addition of the name, image, and likeness deal and the number is starting to take a nose-dive.
In the 2019, 2020, and 2021 seasons, the number of entries was fairly relative with an average of 126 early entries over that span. Since the inclusion of the NIL, there has been an average of 91 early entries, a 35-player drop.
It's no secret that professional athletes are paid an extreme amount of money which can be a major driving factor in a player declaring for the NFL Draft. Prior to the NIL, the average salary of an NFL player was $2.1M. Some collegiate athletes have even managed to eclipse that number in Alabama QB Bryce Young ($3.2M), Ohio State QB C.J. Stroud ($2.5M), and USC QB Caleb Williams ($2.4M).
When looking at the names of Young, Stroud, and Williams, it is easy to assume that the money follows the overall worth of the college, and the conference each team plays in, leaving little to no money to be made for Big 12 athletes. Let me be the first to tell you, that cannot be further from the truth.
Two superstar running backs in the Big 12 crack the top 15 for highest-value NIL deals in Texas running back Bijan Robinson, and Kansas State running back, Deuce Vaughn. Robinson is fifth on the list and has a total NIL valuation of $1.7M and gets paid roughly $16,310 per post on social media, while Vaughn is 14th on the list with a NIL valuation of $478K and gets paid $2,870 per post on average.
2023 should continue the trend of a reduced number of early NFL Draft entries, however, it will be interesting to see at what point the average of players remains still.