Football
The Big 12's 2023 Exit Fee to Texas and Oklahoma? Let's Try $250 Million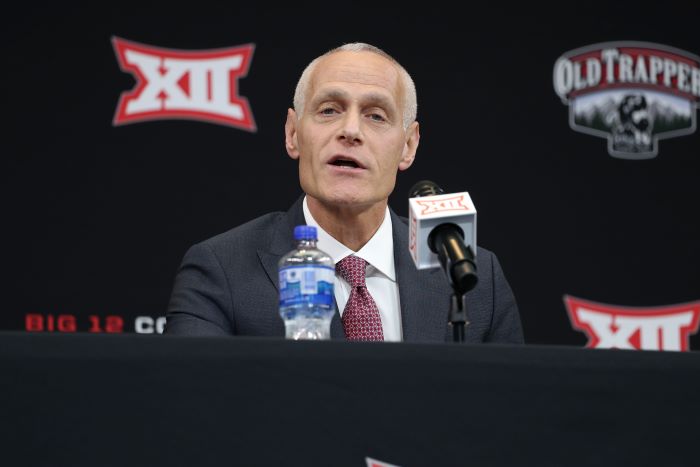 During a podcast with Heartland College Sports' Pete Mundo, he asked me a question that I had to think about:
"Will this be the last year of Bedlam basketball games?"
I thought about it for a minute. Obviously, the answer is no, right? I mean, all signs point toward Oklahoma and Texas being in the conference next season, which would mean two more Bedlam basketball games.
But there's this pesky Big 12 football schedule situation that's been nagging at me.
And that's when I put my tin foil hat on, which isn't often. But when I do, I like to have some fun with it.
I have felt for the last few weeks that there is more to this delay that current and future members haggling over who gets to host OU and UT one final time.
When we met with Big 12 commissioner Brett Yormark in October, he said the Big 12 schedule would be out in December. Said the same thing at the Big 12 Championship game in December. Then he went to Vegas for some meetings and, well, everyone was suddenly a little more flexible. Maybe this could be done sooner?
If the published reports are accurate, there's a desire to allow OU and UT to leave a year early, which would be July 1, 2024.
But … what if it could be … earlier?
That's where my head keeps going. I don't think this is just about football games. I'm starting to think this is about all of the parties involved trying to get OU and UT out this summer. Yes, that's right — six months from now. As in July 1, 2023.
That sounds ludicrous, right? I mean there's just no way, right?
Please this is college sports. There's ALWAYS a way. So let me adjust my hat and tell you how this COULD be done.
For both conferences it would present a football scheduling problem. For the Big 12 it would be much easier. Just tear up the one you're working on now and create a new one.
The SEC released their schedule last year. So, a much harder get, but not impossible. Here's how it could be done.
SEC Scheduling Changes
SEC teams play an eight-game conference schedule with seven-team divisions. Each team plays six divisional games. One game is a designated cross-divisional rival (which is why Alabama plays Tennessee every year). The other game is a cross-divisional game against whomever (which is why Alabama and Georgia almost never play in the regular season).
Here's the fix. For one year, put OU and UT in different divisions, giving the SEC eight teams in each division. Now you have seven divisional games and OU and UT fit into those non-rivalry cross-divisional game. The eighth game for OU and UT is the Red River Rivalry game in Dallas. Yes, you'd have to tweak some dates, but it's doable. As we have learned in this day of college sports, everything is doable.
The other significant issue is money. Ah, yes, money. The SEC would have to work out a new deal with ESPN, but that's not impossible (ESPN basically jumps whenever the SEC says "how high?").
The larger issue is the Big 12. OU and UT can't leave because of the buyout and the grant of rights. Well, they can but it's gonna cost them, right? Dennis Dodd of CBS wrote a piece on Thursday. Here's what a buyout COULD look like if the two schools want out a year early:
Texas and Oklahoma would at least owe the Big 12 a termination fee for leaving early. The contract states any school departing early owes two years' worth of revenue. Using an average annual figure of $42 million, the Big 12 could reap as much as $168 million if Texas and Oklahoma give notice to the league 18 months in advance.
Dodd also wrote that OU and UT reportedly have "no interest" in playing the four new schools.
This is what we call leverage.
The Big 12's Move
The Big 12 legacy schools (I prefer the 'Hateful Eight") surrendered about $16 million in total revenue for the 2023-24 and 2024-25 cycles — the final two years of the current deal. They did that to help the four new members get around $18-19 million in revenue each of those seasons before the new TV deal kicks in for 2025-26, when everyone gets $31.7 million per year.
But if OU and UT really don't want to play those four teams, they'd have to leave, well, now. The Big 12 isn't inclined to do them a solid. How do they do that?
Money, of course. But, how much?
The Big 12 is actually in a position, if all parties are amenable, to name a price. Dodd points out that it's probably $168 million to leave one year early (thought he writes it could be negotiated down). What should the number be to leave two years early? The Big 12 needs bridge money to get to the new television contract, something that will fill that gap, especially for the legacy schools.
So, if OU and UT really want out now to join the SEC in 2023, the Big 12 could offer the following:
Offer OU and UT a $250 million buyout, take it or leave it.
That basically makes up for about 65 percent of what the Hateful Eight gave up ($128 million = $16 million x 8 teams), on top of what the 12 schools will get from the contractual buyout noted by Dodd ($168 million).
That's an up-charge from Yormark and the Big 12 to Oklahoma and Texas, if they want to get into the SEC by later this year.
Would it happen? Probably not.
Should the Big 12 give it a shot? Sure, it's only money to OU and UT.
And then let's get this show on the road, shall we?
You can find Matthew Postins on Twitter @PostinsPostcard.