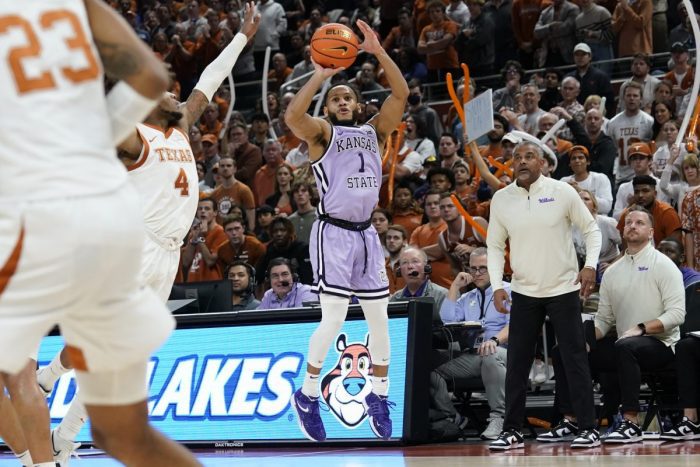 After a turbulent two-game stretch for both Kansas basketball teams, prior to the official AP top 25 release on Monday, the Wildcats jumped ahead as the top-ranked team out of the Big 12 conference per CBS Sports.
The Kansas State Wildcats are coming off back-to-back wins against Kansas (83-82) and Texas Tech (68-58) and have tied their best start to a college basketball season since the 1960s. While nothing is set in stone until the polls come out Monday morning, CBS Sports' Gary Parrish has released his updated top 25 rankings following the conclusion of Saturday's games.
The Wildcats check in on Parrish's list as the fourth-best team in the country, only trailing Houston, Purdue, and Alabama. After starting the season off 17-2, (6-1 CONF) with key wins against Kansas, Texas, and Baylor, K-State fans should expect to see their team amongst the nation's best.
One hour east in Lawrence Kansas, the Jayhawks are another story. Coming off of back-to-back losses at Kansas State and against TCU where the Jayhawks suffered one of their worst losses in the Bill Self era, a 23-point loss at Allen Fieldhouse.
The Jayhawks check in as the third-highest-ranking team in the Big 12 at 8th following Texas (6th) and K-State (4th). While some feel that this is grounds for concern to see Kansas drop their second-straight loss, Parrish thinks that everyone should take a breath and understand that Bill Self's pedigree speaks for itself.
Kansas looks to bounce back against 21st-ranked Baylor on Monday night which is no easy contest for either side, while Wildcats take on Iowa State Tuesday night in what starts the toughest four-game stretch of their schedule.