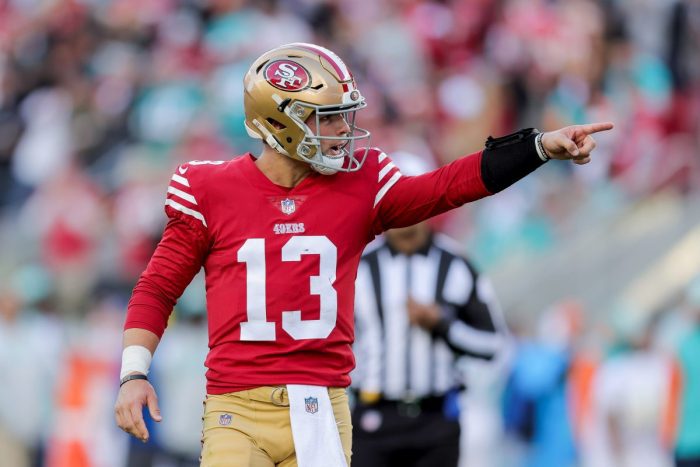 Former Iowa State quarterback Brock Purdy has been turning heads all year at the professional level. Purdy is perfect 6-0 as the starting quarterback for the San Fransico 49ers and with today's start in the divisional round, he makes history.
One person who was not impressed with Brock Purdy was Alabama head coach Nick Saban. Saban evaluated Purdy coming out of college and had an interesting assessment of the Arizona native.
Per The Athletic, Saban told Purdy on an Alabama campus tour, "You're below average in height. Your arm strength is whatever. Your accuracy is average."
Thankfully, Purdy didn't give into Saban's criticism or quit on himself. Purdy committed to Iowa State and after many ups and downs in Ames, he has developed into the passer you see today.
Coming out of high school, Purdy was a three-star quarterback, according to the 247Sports composite, and ranked as the No. 36 pro-style QB in the Class of 2018.
Fast-forward to the present day, and Brock Purdy is set to make history by becoming the first quarterback ever drafted in the seventh round to start in the divisional round of the NFL Playoffs. While any loss can send a team home, Purdy's story is one that feels like destiny.
The 49ers take on Dak Prescott and the Cowboys in the divisional round of the playoffs Sunday at 5:30 PM CST. The winner of the game will take on No. 1 seed, the Philadelphia Eagles next weekend led by another former Big 12 quarterback, Jalen Hurts.