Iowa State Cyclones
Postscripts: Might Notre Dame Poach from the Big 12, Pac-12 Headaches, Plus OU and Texas Can Pony Up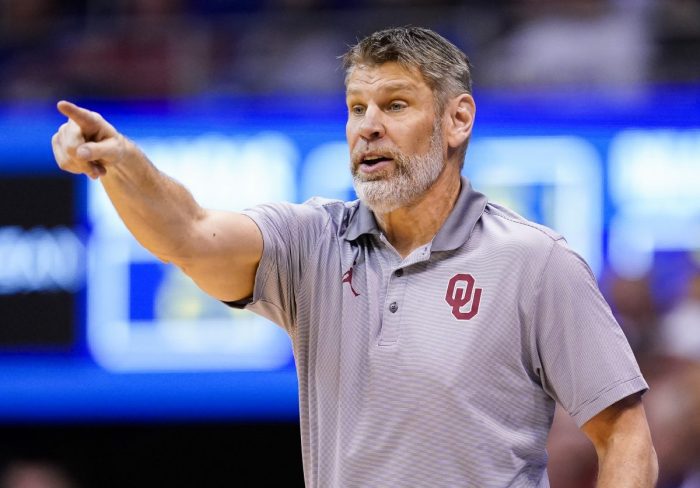 What's going on in the Big 12 and beyond? I expand and explain every Sunday in Postscripts at Heartland College Sports, your home for independent Big 12 coverage.
This week, it's Big 12 basketball coach hunting season, let's talk 'super-early Texas-OU buyout, Big 12 softball, more Pac-12 fun and a moment of zen from West Virginia.
Is it Big 12 Basketball Coach Poaching Season?
Mike Brey's retirement announcement got me thinking about whether the Big 12 could lose a head coach to the Fighting Irish.
Yes, the Texas job is technically open, too. But I feel the Longhorns are going to look for a hire that has experience with the SEC, which is why someone like Kentucky's John Calipari is a natural coach to pursue (I wrote about that recently because I'm here to serve all your basketball needs. I'm a giver).
Notre Dame is different. It doesn't have quite as much basketball tradition, but when it's good — as it has been under Brey — it can be really good. They have great facilities and you'll never want for resources.
Pursuing a coach in the Big 12 would be a natural thought for the Irish. It's the best conference in basketball and features some of the best coaches in the game. Of course, some of those coaches are, I think, unattainable. Baylor's Scott Drew, Kansas' Bill Self, TCU's Jamie Dixon, Texas Tech's Mark Adams and West Virginia's Bob Huggins aren't walking through that door. Three of them (Dixon, Adams and Huggins) have their dream jobs. The other two have won national titles and there is no reason for them to leave.
That leaves Iowa State's T.J. Otzelberger, Kansas State's Jerome Tang, Oklahoma's Porter Moser, Oklahoma State's Mike Boynton Jr. and Texas interim coach Rodney Terry.
Otz basically has his dream job. Tang is in his first season and while he'll be a coach search du jour this offseason, I think he's more interested in building up in Manhattan. Moser and the Sooners are transitioning to the SEC and that has more pull. If Boynton wasn't going to head back to his alma mater (South Carolina) after Frank Martin left, then what job would he take? And Terry? As a head coach before Texas he was just over .500.
Oh, and there's a buyout issue with Moser, as Stadium's Jeff Goodman points out.
Sure, Notre Dame can try if it likes. But the Big 12 coaches know the future is ahead of this league. Plus, they have resources and they all make good money.
Katie doesn't need to bar the door … this time.
The $250 Million Question
Supposedly, we will have a Big 12 football schedule by the end of the month. We'll see. I think we're all pondering why this is taking so long, especially as Oklahoma and Texas try to exit one year early. But an innocuous question posed by my boss, Pete Mundo, during our basketball podcast earlier this week led me to articulate a question I've been pondering for a bit now:
Could OU and Texas be trying to get out two years early?
Sounds insane, I know. But I put some thought into it and figured out how it COULD be done. I'm getting my 'tin foil hat' moment out of the way early for 2023.
Portraits in Courage
Someone was quite unhappy with the officiating during Baylor's win over Texas Tech earlier this week.
I'd say you pay for floor seats to yell at officials, but apparently we also pay for floor seats to jaw with NBA players and the fathers of NBA players, as evidenced by Shannon Sharpe.
The Pac-12 Had an Audit and … Uh Oh
So, while Big 12 fans are waiting for a football schedule, Pac-12 fans are waiting for a television contract. And the league kinda needs one since it lapses after the 2023-24 athletic year, and that's when USC and UCLA head to the Big Ten.
One has to wonder if this news complicates matters at all?
The Pac-12 statement goes into the nuts and bolts of it. When you consider it's a conference release, it's surprisingly transparent about what happened. It's also the kind of thing you DON'T want when you're trying to get a new TV deal.
Where Big 12 Will Miss Texas, OU
The past two years have shown that the Big 12 can field a competitive conference in football without Oklahoma and Texas. When the two teams leave for basketball, I think the same holds true there, too.
But one sport where the Big 12 will miss both OU and Texas is softball.
The All-Big 12 preseason team came out this week and eight of the 12 selections were either Sooners or Longhorns (seven of them were Sooners, who just happen to be the defending national champions). Oklahoma State got two of the selections, while Baylor and Kansas got one each.
As one might expect, the Sooners were No. 1 in the preseason softball poll. Oklahoma State was second and Texas was third.
All three went to the Women's College World Series last season. And, when OU and Texas leave the conference Oklahoma State becomes the natural choice to be the dominant program. The question is which schools will elevate to give the Cowgirls a run for their money.
A Moment of Zen
Is that still a thing? If so, then let's close with a photo of West Virginia basketball coach Bob Huggins and Baby Dog.
Oh, and the Governor of West Virginia, Jim Justice, and WVU athletic director Wren Baker are in there too. But its Huggs and a dog, so we're gonna focus on that.
You can find Matthew Postins on Twitter @PostinsPostcard