Baylor Bears
Big 12 Men's Basketball Power Rankings: K-State, TCU, Iowa State Take Top 3 Spots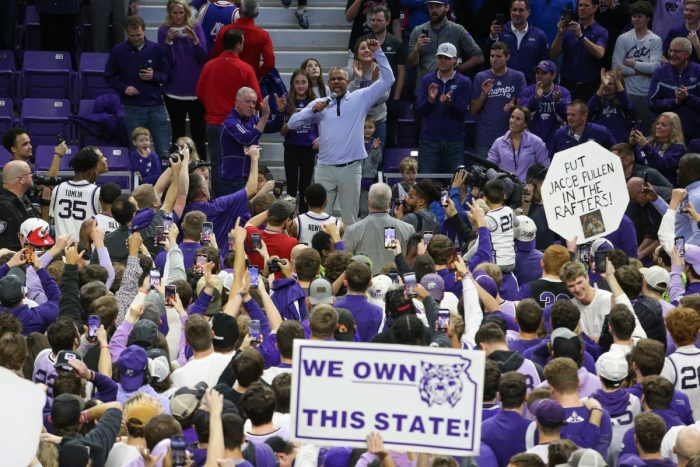 The Kansas State Wildcats are No. 1 in the Heartland College Sports Big 12 men's basketball power rankings after the third full week of Big 12 Conference action. Our Power Rankings appear every Monday.
Check out Heartland College Sports for men's and women's basketball coverage every day, including our thoughts on big games, the previous week's action, our weekly schedules and daily fantasy lineups as we march toward, well, March.
This was, undoubtedly, the most tumultuous week of the season when it comes to power rankings. Nearly every team moved.
1. KANSAS STATE (17-2, 6-1: Last Week — 4)
The Wildcats beat their arch-rival, Kansas, at home in overtime and then took care of business against Texas Tech (after the Red Raiders put up a good first-half fight). K-State will likely be a Top 10 team nationally after last week. Keyontae Johnson may only be with the Wildcats for one season as the NBA may come calling soon. This could be a short-lived No. 1, too, as a trip to Iowa State is looming this week.
2. TCU (15-4, 4-3: Last Week — 5)
This is where I really struggled. TCU and Iowa State had nearly identical weeks. The Horned Frogs and Cyclones each beat a Top 25 team and lost to a non-Top 25 team. In the end I have to give the Horned Frogs a little bit more credit for not just beating Kansas on the road but giving them one of the worst beatdowns of the Bill Self era. The two teams' quality of play this week was nearly identical.
3. IOWA STATE (14-4, 5-2: Last Week — 3)
I already explained the logic above. You may agree or disagree, that's fine. But after looking at the rest of the group underneath here, there was no question that the Cyclones are playing better basketball than any of the other teams. Their ability to generate offense since Big 12 play has been a difference maker for them. So has forward Osun Osunniyi.
4. TEXAS (16-3, 5-2: Last Week — 2)
The loss to Iowa State was a tough one for Texas to take on the road, and it could have been two straight, but the Longhorns fought off West Virginia in Morgantown on Saturday. Like Baylor this team will succeed or fail on the backs of its talented guards — Marcus Carr, Tyrese Hunter and Sir'Jabari Rice.
5. KANSAS (16-3, 5-2: Last Week — 1)
Big drop? Yes. And it's warranted. It wasn't so much the overtime loss to Kansas State. It was the way this Jayhawks team lost to TCU at home — the second-worst loss of the Bill Self era at home — that dropped them here. Jalen Wilson had a huge week, scoring 68 points. He could be the Big 12 Player of the Week for a team that dropped two straight. Defense is an issue in Lawrence, and I'm not just talking about the title defense.
6. BAYLOR (14-5, 4-3: Last Week — 6)
Baylor has now won four straight and I saw them in person against Oklahoma on Saturday. The Bears' success or failure will be on the backs of its guards — Adam Flagler, Keyonte George and LJ Cryer — along with forward Jalen Bridges, who plays at times like a fourth guard. I was impressed with them winning a close one against OU, but it probably shouldn't have been that close.
7. OKLAHOMA STATE (11-8, 3-4: Last Week — 10)
The Cowboys needed last week. NEEDED it. The Cowboys beat Oklahoma at home and then upset Iowa State at home. The offense is finally starting to get back on track, and forward Kalib Boone is playing some great basketball right now. This is the time for the Cowboys to gather some momentum if they expect to claim an NCAA Tournament berth.
8. WEST VIRGINIA (11-8, 1-6: Last Week — 8)
Well, the Mountaineers finally won a game, beating Top 15 TCU at home. And the Mountaineers nearly did it again when they hosted Texas on Saturday. WVU is still a hard team to figure out, and it was clear from Bob Huggins' postgame comments after Saturday's game that there are still aspects of this team, behind the scenes, that he's not happy about.
7. OKLAHOMA (11-8, 2-5: Last Week — 7)
The Sooners just keep missing chance after chance to make their lives easier. Baylor on Saturday was the latest example. OU had plenty of chances to win and didn't cash in. They're close to squandering the cushion their successful non-conference schedule afforded them. OU hosts Alabama on Saturday. Yeesh.
9. TEXAS TECH (10-9, 0-7: Last Week — 9)
Maybe Texas Tech can finally get that elusive first Big 12 win when it hosts West Virginia on Saturday. I still believe this team can make a surge in February. But will it come in enough time to earn an NCAA Tournament berth? Right now, even an NIT berth feels like it's somewhat in doubt.
You can find Matthew Postins on Twitter @PostinsPostcard.