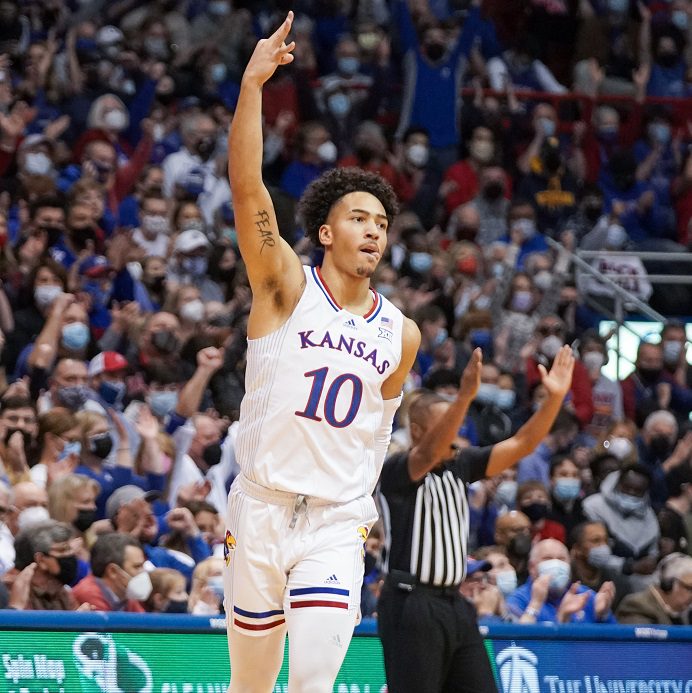 The Kansas–Baylor game is in the Draft Kings Daily Fantasy Sports pool for men's college basketball as Big 12 play continues on Monday.
This season, when Big 12 games are part of the pool at Draft Kings, I'll provide my recommendations based on the lineup I'm playing that day.
In this case, since it's a specific game for just Kansas and Baylor, the recommendations are for a six-player team, with one selected player — the captain — getting 1.5 times the fantasy points. The salary cap is $50,000.
The goal is to fill out a complete Big 12 lineup. With two teams and six slots, we can do just that.
Here is Monday's lineup/recommendations:
Captain
F Jalen Wilson, Kansas ($17,400)
He's the most expensive player in the pool, but he'll probably be worth it. He scored 68 points in two games last week and nearly had a double-double in the loss to Kansas State. To give you a sense of the baseline last week, Wilson had 54.75 fantasy points against Kansas State and 42.25 fantasy points against TCU, both losses.
If you're looking for a player to maximize the bonus, Wilson is the player. I don't trust Baylor's defense to slow him down. They're playing more zone than usual and that would play right into Wilson's hands.
He's also remarkably consistent. He averages 39.4 fantasy points per game and has had at least 32 in his last five games.
With Wilson off the board, I'll take two more Jayhawks and three Bears.
The Remaining Five
Kansas: G Gradey Dick ($7,800), F KJ Adams ($6,400)
Baylor: G Adam Flagler ($9,000), G LJ Cryer ($5,800), F Caleb Lohner ($3,200)
I think Dick bounces back to his previous form in this game. His shot from distance has been a little off and I think if the Bears go man-to-man he'll draw Keyonte George on defense, and that's a matchup he can exploit.
I'll get Adams on the cheap. I think he has a matchup where he can bounce back because the Bears really only have one interior defender in Flo Thamba and Adams' mobility will give him some issues. Between Wilson and Adams, that gives me two Jayhawks that can crash the boards consistently.
Flagler squeezed out a 28-point fantasy game against Oklahoma on Saturday without his best stuff. My guess is he'll draw DaJuan Harris Jr. on defense, and that will make his day difficult. But he'll find a way to overcome it and get close to his average of 31 fantasy points per game.
Cryer is due a big game from the arc. He scored just nine fantasy points against Oklahoma. But he averages 21 for the season. It's all about whether he can hit the 3 and Kansas hasn't defended it that well lately.
=
Lohner was the cheapest Bear I could get for the remaining cap space. He's hit or miss. If Jalen Bridges gets into foul trouble he would be the beneficiary. I'm hoping I can squeeze 15 fantasy points out of him. That would be nearly four above his season average. That would be a win for the cap space.
–
Scoring system: Point: +1 Pt; Made 3pt Shot: +0.5 Pts; Rebound: +1.25 Pts; Assist: +1.5 Pts; Steal: +2 Pts; Block: +2 Pts; Turnover: -0.5 Pts; Double-Double (Max 1 Per Player: Points, Rebounds, Assists, Blocks, Steals) +1.5 Pts; Triple-Double: Max 1 Per Player (Points, Rebounds, Assists, Blocks, Steals): +3 Pts
You can find Matthew Postins on Twitter @PostinsPostcard