featured
Brock Purdy vs. Jalen Hurts: Recapping their 2019 Big 12 Matchup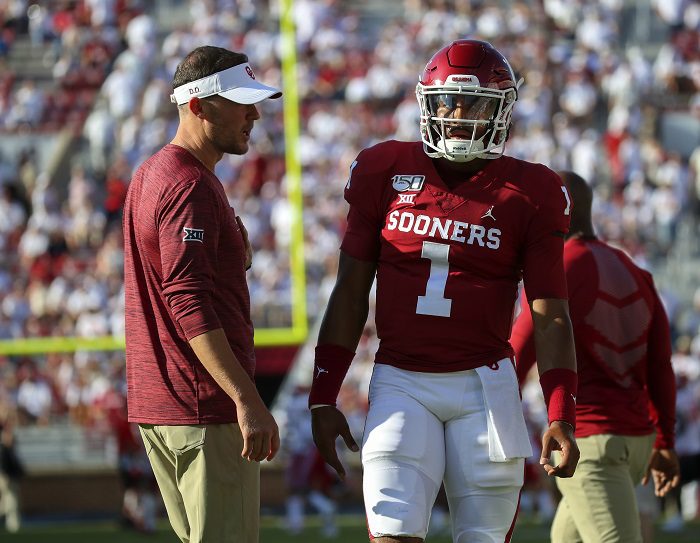 Next Sunday, we will see two former Big 12 quarterbacks battle for a spot in the Super Bowl as Jalen Hurts and the Philadelphia Eagles will play host to Brock Purdy and the San Francisco 49ers.
These two quarterbacks have met once before, in college, as Hurts and the Oklahoma Sooners played host to Purdy and Iowa State, escaping with a 42-41 victory over the Cyclones.
In honor of their upcoming matchup, let's take a look back at this epic battle between the two starting quarterbacks in the 2023 NFC Championship game.
Jalen Hurts and the Sooners were too strong, too athletic, and too fast for the Iowa State Cyclones on Saturday, November 10, 2019 on a chilly night in Norman. Well, at least for the first thirty minutes.
The Sooners dominated Iowa State out of the gates, but this game in Norman turned into a tale of two halves.
The Sooners got on the board on the opening drive, going 72 yards in four plays, capped off by a 48-yard strike from Jalen Hurts to CeeDee Lamb. Iowa State would go three-and-out, and then it was OU striking again, this time on a seven-play, 54-yard drive, ending with Jalen Hurts' eight-yard score, and OU was up 14-0 just minutes in.
The Cyclones would be forced into a three-and-out once again, but this time the defense got off the field, which gave the Cyclones the momentum they needed, and they were able to capitalize with Brock Purdy finding Tarique Milton 40 yards and a score.
But the momentum wasn't meant to last, as OU went the methodical route, going 11 plays and 74 yards for a score, with Jalen Hurts finding freshman Trejan Bridges for an eight-yard TD. That made it 21-7 OU with one minute gone by in the second quarter.
Two drives later, OU struck again with Hurts hooking up with CeeDee Lamb for an incredible 63-yard touchdown and a 21-point lead. But Iowa State got back in the end zone themselves, as Purdy found Dylan Soehner from 23 yards out for a touchdown and that brought the Iowa State deficit back to 14. Then, with over three minutes left until halftime, ISU had the ball with a chance to make it a one-possession game. However, the Cyclones went three-and-out, which gave OU the ball one more time before halftime. And in typical Sooner fashion, they scored quickly, going 11 plays and 82 yards in 2:23 to go up 35-14 at halftime.
In the second half, Iowa State got on the board right away, as Brock Purdy scored on a four-yard touchdown run, capping off an eight-play, 75-yard drive as Iowa State trailed 35-21.
Both teams exchanged punts before OU's offense got back to work and Kennedy Brooks took it 48 yards to the house to help put the Sooners back on top 42-21. Iowa State would respond with a score, to bring the deficit back to two touchdowns and then CeeDee Lamb fumbled, which was recovered by ISU's O'Rien Vance in OU territory with 14:26 left in the game.
But then Iowa State's drive, which consisted of 14 plays, resulted in zero points after several penalties on both sides and missed opportunities by both sides. A fourth and goal from the 14 sailed high over Brock Purdy's intended receiver and the Cyclones still trailed by 14 at the halfway mark in the fourth quarter.
However, Iowa State did not roll over. The Cyclones forced OU into a three-and-out and then put together a four-play drive, finished with Brock Purdy finding Sean Shaw Jr. for a 33-yard touchdown to pull Iowa State to within a touchdown at the 3:35 mark in the fourth quarter.
On the ensuing drive, Jalen Hurts was intercepted on a 3rd and seven from his own 28, and Iowa State found itself with the ball at the Sooners' 35-yard line and a chance to send the game to overtime or win it outright.
Eight plays later, Brock Purdy found Charlie Kolar for a 13-yard touchdown and the Cyclones were down one point on the road with 24 seconds left. Matt Campbell went for the win and the two-point conversion, however, the pass from Purdy to the corner of the end zone was picked off by Parnell Motley. Pass interference could have been called on the play, but the officials let it play out and OU held on for the 42-41 win.
The Sooners were held to seven points in the second half. Jalen Hurts finished 18 of 26 for 273 passing yards, three touchdowns, and one interception while rushing for 68 yards and two scores. Brock Purdy turned in one of his best games in the loss, completing 19-30 for 282 yards and five touchdowns, adding 15 rushes for 55 yards and one score on the ground.
This week, there will be much more at stake with the NFC Championship trophy and a spot in the Super Bowl on the line. The 49ers will head to Philadelphia to take on the top-seeded Eagles at 2:00 p.m. on Sunday, with Hurts' Eagles being favored by 2.5 points.