Baylor Bears
Three Biggest Takeaway From Week 4 of Big 12 Basketball Conference Play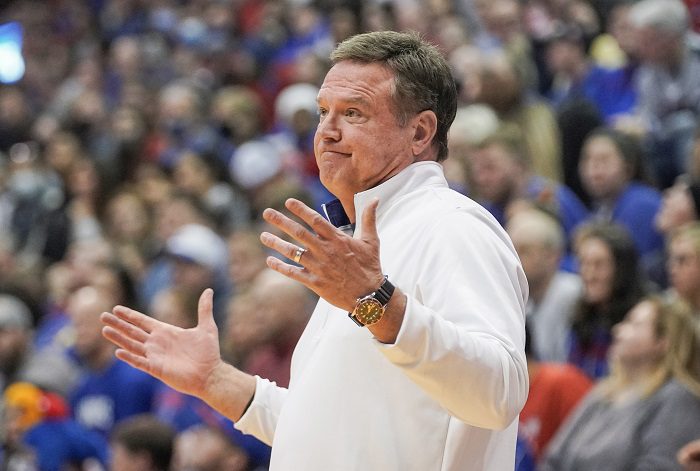 The fourth week of Big 12 men's basketball saw the league lost its final undefeated team in league action. Here are three takeaways from the fourth week of the league slate.
Don't forget about our new feature for men's basketball — Daily Fantasy Lineups. Every night a Big 12 team is part of the Draft Kings pool, I'll provide my picks for the game, along with my complete lineup. The hope is that by Big 12 play I'm able to put together a full Big 12 lineup during conference games.
The road to Kansas City and the Big 12 Tournament is here. Follow Heartland College Sports all season.
Kansas' Terrible, Horrible No Good, Very Bad Week
It's unlikely anyone in the Big 12 feels bad for the Jayhawks after a two-loss week.
But this is perhaps the worst week of Big 12 basketball Kansas has experienced since I started covering the league for the 2017-18 season.
Both losses exposed a few issues Kansas will have to deal with.
First is defense. Now, you wander over to Ken Pomeroy's defensive efficiency rankings and you'll see that Kansas is No. 19. Nothing wrong with that. But if you watched both games last week, you know they had matchup issues. The Jayhawks had trouble defending Kansas State forward Keyontae Johnson one-on-one (heck, everyone has). Mobile size outside the perimeter is giving the Jayhawks trouble.
Second is depth. I thought going into the season Kansas had the potential to be an eight- or nine-deep team. The Jayhawks are not. Against TCU the only player that logged double-digit minutes off the bench was guard Bobby Pettiford Jr. Kansas' young depth has not come along the way I expected this season.
Now, Kansas reached a Final Four with a short bench — that 2017-18 team only played seven consistently — but it isn't easy. That short bench hurt them against Kansas State, when three starters fouled out. Players like Joseph Yesufu, Ernest Udeh Jr., Zach Clemence, Zuby Ejiofor and MJ Rice need to produce more in the short time they're getting now to get Self to give them more time.
Third, Kevin McCullar Jr. needs to get on track offensively. When I talked to him at Big 12 Media Day, we talked about his transfer. Part of his desire was to take his game to another level. That meant offense. The NBA gave him a lot of feedback, the biggest piece of which was the goal of showing he could be a higher-level offensive player. To this point he's averaging 10.2 points, basically what he averaged at Texas Tech the last two seasons.
McCullar can do everything well. But in the NBA you need to show you can score. If McCullar can start doing that more often, it will help his NBA prospects and his team in the process.
Kansas isn't dead in the water, of course. But last week was a wake-up call and this week is no picnic. It's a road week with trips to Baylor and Kentucky. We'll find out real fast if the Jayhawks learned anything.
Rodney Terry's Race to Full-Time Employment
The Texas Longhorns are 10-2 under interim head coach Rodney Terry. According to a story last week, his chances of taking over the job full-time appear to be improving.
The report cited this Saturday's game with Tennessee, which is coached by former Texas boss Rick Barnes, who at one point was Terry's boss. The pupil-vs-teacher scenario could work to Terry's favor, if the Longhorns can beat the Vols in Knoxville. Barnes is still well-respected in Austin. Not well-respected enough to re-hire, but a Texas win could give Terry a significant boost in credibility.
The report pretty much lines up with what I told Pete Mundo on our podcast last week — Terry needs to win and he needs to win a lot to fend off the speculation around Kentucky coach John Calipari. The basketball expectations at Texas aren't the football expectations at Texas, but they're still there. Plus there's the future move to the SEC to consider.
The baseline, I think, is getting Texas to the Sweet 16, one round farther than Beard took them last season and a place the Longhorns haven't been since 2008. If he does that, I think his chances of getting the job are high.
More Osun Osunniyi, Please
For most of the season Iowa State forward Osun Osunniyi has been the 'other' St. Bonaventure transfer, given that guard Jaren Holmes hit the ground running to start the season.
But, as the season has gone on, Osunniyi has really started to produce.
And Big 12 play seemed to be the trigger.
He's averaging nearly nine points per game this season. He actually started with double-digit scoring in four of Iowa State's first six games before he hit a valley in December.
But, since Big 12 play began he's averaging nearly 10 points and nearly six rebounds per game. He's only had one bad game in league action, which was his two-point, three-rebound game against Texas Tech. He played 12 minutes.
Iowa State coach T.J. Otzelberger talked about the why of Osunniyi's surge. Part of it was comfort level with the program. Part of it was his staff has figured out how to use him properly. He can take the ball downhill at 6-foot-10, so ISU is running more action with him at the elbow of the paint to allow him to square up and drive, shoot or pass. He's rebounding at nearly double his season average, too.
His rise is important for Iowa State because of his size and rim protection. The Cyclones have found a groove from the perimeter with Gabe Kalscheur, Caleb Grill and Holmes. But they need a player like Osunniyi — and his backup, Robert Jones — to clean up what doesn't work. It's no surprise that Osunniyi's scoring has gone up. But it's been more efficient, too, shooting 55.7 percent during that stretch.
But, in the last three games? He's 19-for-31. The adjustment on offense are clearly agreeing with him. As his usage has gone up, he's remained efficient and that should keep him on the floor longer.
You can find Matthew Postins on Twitter @PostinsPostcard