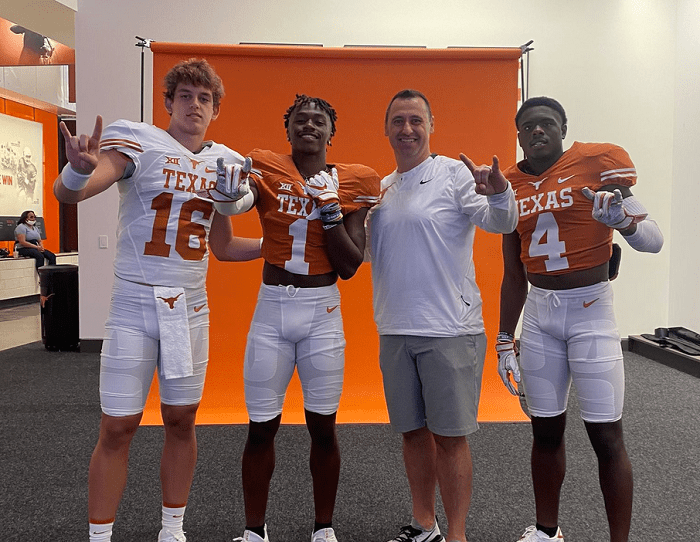 Over the weekend, Texas hosted several of the nation's top 2024 high school players at a junior day event in Austin.
While some of the names on the list certainly made for some excitement, a video that surfaced of Texas' quarterback of the future has Longhorn fans itching for some football already.
Arch Manning, an early enrollee from the class of 2023, decided to get some work in with fellow early enrollee DeAndre Moore Jr. this weekend and a video of one of their connections has found its way to Twitter.
That connection will be seen early and often at DKR before too long, as the two uber-talented freshman look to already have some chemistry building.
Manning, listed at 6-4, 21 pounds, is the top overall player in the 2023 class, according to 247Sports and is the highest-rated recruit to sign with the Longhorns since Vince Young in the class of 2002.
DeAndre Moore is the No. 98 overall player in the class of 2023 and is ranked as the No. 17 wideout in the class. Both players are part of an impressive recruiting class for Steve Sarkisian's staff, ranking third nationally just Alabama and Georgia, and just ahead of rival Oklahoma.
With the offseason already in full swing, it won't be long before the rumors of an ensuing quarterback battle are floating around Austin, with Quinn Ewers and Manning duking it out to decide who gets the start against Rice on September 2.