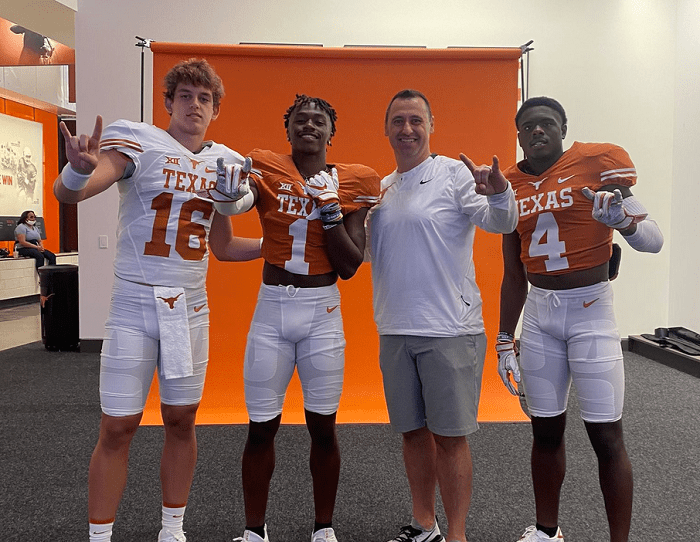 On3's Pete Nakos recently published an article titled "Top 10 On3 NIL Valuations in the NIL 100," which counts down the top college and high school athletes' name, image, and likeness value.
The top overall athlete, in terms of value, is Bronny James, son of basketball legend and NBA star LeBron James. According to On3, James' NIL valuation is approximately $7.5 million, as he has signed notable agreements with companies like Beats, Nike, and PSD Underwear.
With his last name, James is destined to make otherworldly money in NIL opportunities, and the athlete right behind James has the same thing going for him.
Second overall on the list is Texas quarterback Arch Manning, who has an approximate NIL valuation of $3.7 million. Here's what Nakos had to say about the five-star Texas quarterback, who has been on campus in Austin for just a couple of weeks now.
"The grandson of Archie, son of Cooper and nephew of Peyton and Eli announced his commitment to Texas this past summer. The No. 1 ranked recruit and Five-Star Plus+ quarterback has since enrolled early with the Longhorns, ready to begin spring classes. Arch Manning may not have the largest social media following, yet his name recognition for a high school prospect is unprecedented. He also has the opportunity to partner with his superstar uncles in NIL ventures. With more than 237K followers, his following will only rise throughout his career at Texas. He has publicly announce his first NIL agreement, but the quarterback will not have any problems finding opportunities."
Before even stepping on the field in a Texas uniform, Manning is worth more than the majority of athletes will ever see over the course of their career. However, if he lives up the hype, he will be worth a whole lot more than that when the 2026 NFL Draft comes around.