featured
Kansas on Brink of Historic Skid With Kentucky Looming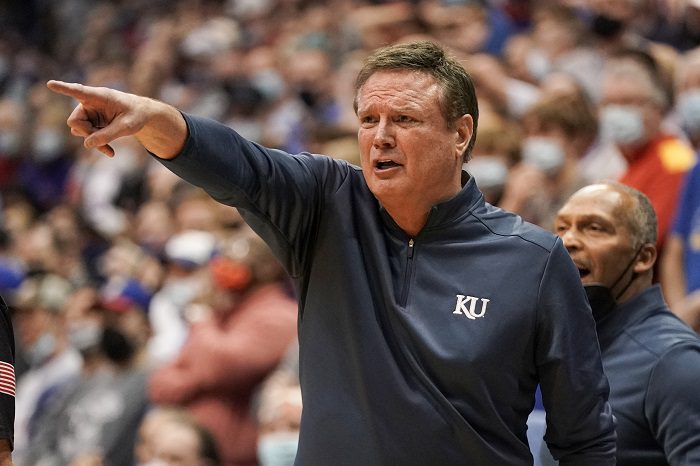 The Kansas Jayhawks fell to the Baylor Bears 75-69 on Monday night. This comes on the heels of an 83-60 home loss to TCU and an 83-82 overtime loss to Kansas State before that. This is only the fourth time Bill Self has lost three consecutive games during his tenure as the Jayhawks' head coach.
During the 2004-2005 season, Kansas lost three in a row to Texas Tech, Iowa State, and Oklahoma. In February 2013, the Jayhawks lost to Oklahoma State, TCU, and Oklahoma in consecutive games. Then during the 2020 season, they lost to Oklahoma State, Baylor, and Oklahoma. During that last three-game losing streak, there was a game against Iowa State that was postponed due to COVID-19.
Not only did Kansas just lose three consecutive games, but it was the first time Baylor had defeated the Jayhawks in back-to-back games in the series' history. Baylor was the preseason favorite to win the Big 12 and started the season as a Top 5 team. Kansas losing on the road to Baylor isn't shocking. The Jayhawks getting pounded at home by TCU was shocking, but losing to Baylor at their place wasn't a surprise to anyone who has been paying attention.
Once again, Kansas showed its weaknesses in a loss. The game started with Baylor jumping out to an early 18-7 lead. Falling behind is a bad theme that has occurred far too often by this Jayhawks team. The Jayhawks were outrebounded and showed their size could hurt them in certain matchups. Gradey Dick got in foul trouble with two early fouls before the under 16:00 timeout in the first half and needed to sub out and missed a substantial period of time early in the first half.
All of that along with untimely turnovers by the typically steady hand of DeJuan Harris Jr, plus the no-show from K.J. Adams who had been a force early in the season, and that bubbles into a road loss.
Dick was steady for the Jayhawks, leading the team with 24 points including shooting 100% from the free throw line. He was one point away from a career-high. Jalen Wilson got hot in the second half and finished with 23 points, including a trio of three-pointers. After another slow start, Kevin McCullar Jr. had a good second half, finishing the game with 14 points, 12 rebounds, four assists, two steals, and a block.
The Jayhawks utilized their bench more in the first half, pushing for Ernest Udeh and MJ Rice as their big-man subs. The offensive sets looked clunky when they were in the game and ultimately, Self generally kept his starters in as much as possible in the second half when they were able to climb their way back into it. Despite all of that, and the Jayhawks even taking a brief lead early in the second half, the Jayhawks could not make a second comeback and picked up their third loss in three games.
It's not time to hit the panic button yet, but things do not get easier for the Jayhawks. Bill Self is hoping to avoid his first four-game losing streak at Kansas with another tough stretch of games ahead. Up next on the schedule over the next four games: at Kentucky, home against #5 Kansas State, at #12 Iowa State, home against #10 Texas. Yes, that's correct, the "easiest" in the next four is on the road at Kentucky.
Last year, in Allen Fieldhouse, Kentucky dominated Kansas on their way to an 82-60 win. The Jayhawks will not only be out to stop a three-game losing streak but they will be out for revenge as well. This is the fourth time in five seasons these two blue-blood programs will meet. Kansas has won three of the last five, but Kentucky holds the series lead 24-10.
When looking at the history, not only of the series between these two teams but college basketball at-large, these two teams are widely considered the best. They are #1 and #2 in total all-time wins. Kansas overtook Kentucky last season and now has 2,373 all-time wins whereas Kentucky has 2,366 all-time wins. Both schools take pride in their history and that will also be on the line this Saturday.
There is no break in the schedule for Kansas. There's no reason to hit the panic button yet, but with no time to take a breather, Kansas needs to compile some wins against top-tier competition or the season will slowly unravel right in front of our eyes. Buckle up Jayhawk fans, you might be in for a bumpy ride.