Big 12 News
Oklahoma Leads Three Top 10 Big 12 Teams in USA Softball Preseason Top 25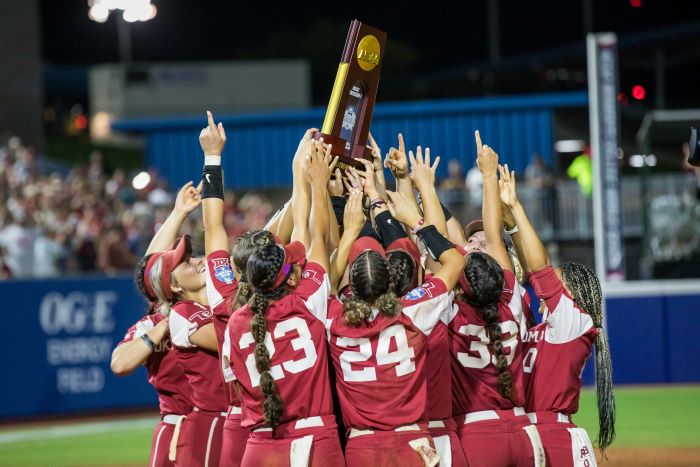 The Big 12 dominated softball last season, and it will look to do so again in 2023. Three of the final four teams in the Women's College World Series were Oklahoma, Oklahoma State, and Texas (UCLA was the outlier).
Now, it seems only fitting that those three teams are all listed as Top 10 teams nationally coming into the 2023 season, according to the ESPN.com/USA Softball Collegiate Top 25 Poll.
The back-to-back defending national champion Oklahoma Sooners received all 25 first-place votes in the poll, making them the unanimous No. 1 team in the nation for the second year in a row. The Sooners return five All-Americans in Jordy Bahl, Jayda Coleman, Kinzie Hansen, Tiare Jennings and Grace Lyons in 2023 and look primed to defend their title despite a tough schedule that will see them face nine of the preseason Top 25 teams including No. 2 UCLA, No. 3 Oklahoma State, and No. 4 Florida State.
Oklahoma State comes in at No. 3 in the ESPN.com/USA Softball preseason poll and will look to make it back to Oklahoma City for the fourth-straight Women's College World Series and certainly has the experience to do so. The Cowgirls return six starters – including All-Americans Kelly Maxwell and Katelynn Carwile – from last year's team that advanced to OKC and finished ranked third in the nation.
The Texas Longhorns come into the 2023 season ranked No. 9 in the preseason poll after finishing as the national runner-up in 2022. Led by All-Big 12 IF Mia Scott, the Longhorns will hope to recapture last season's late success that carried them to an appearance in the national championship series. Texas does have a tall task in replacing Hailey Dolcini in the circle, but feels confident that Sophia Simpson and Estelle Czech are up to the challenge.
Here's a look at the complete ESPN.com/USA Softball Collegiate Top 25 Poll.
Oklahoma (25)
UCLA
Oklahoma State
Florida State
Florida
Arkansas
Alabama
Northwestern
Texas
Clemson
Virginia Tech
Tennessee
Georgia
Stanford
Arizona
Washington
Kentucky
UCF
Duke
LSU
Auburn
Oregon
Missouri
Louisiana
Oregon State
Receiving Votes: Arizona State, San Diego State, Boise State, Notre Dame, Louisville, Michigan, Minnesota, Ole Miss, Nebraska, Ohio State, Baylor, North Texas, BYU, Mississippi State, Cal State Fullerton, Loyola Marymount, Wichita State