Baylor Bears
Three Biggest Takeaways From Big 12 Conference Women's Basketball in Week 4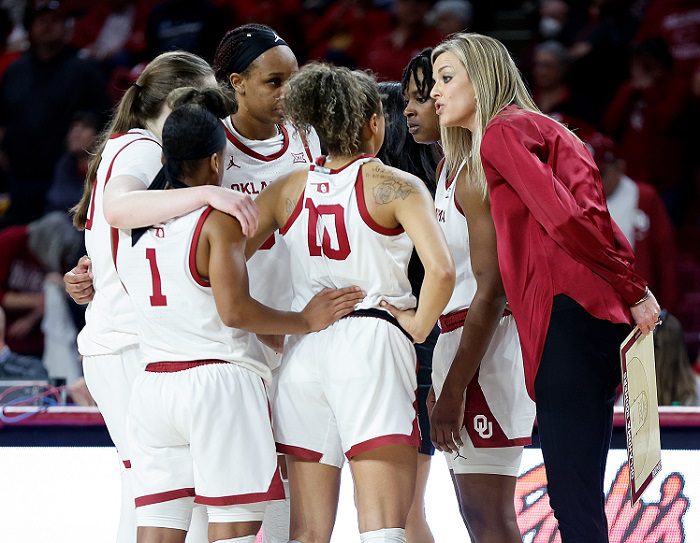 The fourth week of Big 12 women's basketball conference action is a wrap. Here are three takeaways from the latest week of the league slate.
It's an 18-game march to March in Kansas City, and Heartland College Sports has you covered all season.
Let's Keep Playing Bedlam
I covered the women's version of Bedlam on Saturday night, as Oklahoma hosted Oklahoma State. It was quite possibly the most competitive game I've seen this year.
The two teams scored a combined 190 points in the Sooners' 97-93 win, which took place in front of 9,580 at the Lloyd Noble Center. The women played a doubleheader with the men. Here are my thoughts from the game.
One additional one I had driving back from Norman was that I hope this game continues when the Sooners transition to the SEC (I had some thoughts about that last week, too).
Keeping games like this going shouldn't be this tricky for basketball. Yet, on the men's side, Texas and Texas A&M have only played a few charity games over the years. Last year Texas and Texas A&M played on the women's side, but much of that had to do with the relationship between now-retired Aggies coach Gary Blair and Texas coach Vic Schaefer. Blair used to employ Schaefer at Arkansas and Texas A&M.
Oklahoma's Jennie Baranczyk has only been on the job in Norman for two seasons. Oklahoma State coach Jacie Hoyt is in her first season. If Saturday was a prelude to what these two coaches can do with these two programs, then finding a way to keep this game going should be a priority for school administration, even if the football teams don't keep playing each other moving forward.
"There's a lot of respect between both of us and we respect them a lot," Baranczyk said. "I think they're going to do a great job and the better the basketball is in this state, the better it is for everybody. And again, I can go back on my soapbox and but I think the better we all are, the better it's going to be and this is exactly what you want."
Baranczyk went on a soapbox about some other things that I'll get to later this week. Meanwhile, she said on Saturday that the atmosphere at the Noble Center for that game is what she wants moving forward. And given that OU is a Top 15 team, that isn't much to ask.
Peeking at the Future, Part 1
The Big 12 has pulled in some talented freshmen this season. Strangely, the impact has been felt primarily with two schools. One you might expect — Baylor. The Bears have seen guard Bella Fontleroy and guard/forward Darianna Littlepage-Buggs combine for five Big 12 Freshman of the Week awards. Fontleroy collected both of hers in the first four weeks of the season. Littlepage-Buggs has taken over since, winning three, including a pair in Big 12 action.
The other school is one you might not expect — Texas Tech. The Lady Raiders, like the Bears, have two players that have won the award multiple times — guard Bailey Maupin and forward Jasmine Shavers. Maupin has won it twice and Shavers three times, with two of Shavers' awards coming in Big 12 play. She and Littlepage-Buggs have traded the award for the past four weeks.
In fact, the only other freshman to win the award is a redshirt freshman — Iowa State guard Denae Fritz.
Looking at the Class of 2023, the youth movement is going to continue. Big 12 schools have signatures or commitments from 12 players in ESPN.com's Top 100, with Iowa State having the most with three. Texas and TCU have two each. The only two schools without a Top 100 right now are Kansas State and Oklahoma State.
There is time for that to change. While we focus on the early signing period in November, the traditional signing period starts in April.
Peeking at the Future, Part 2
I was thinking about the future Big 12 members the other day, but the folks at wbbblog.com beat me to it. Here's a sit-rep on the New Four coming to your favorite basketball league.
Not thrilling at the moment. BYU and UCF at least have the overall records to try and work their way into NCAA Tournament contention if they can get on a run here.
Plus, BYU has an ESPN Top 100 for 2023 on the hook in Timpview (Utah) product Amari Whiting, who is a point guard and the No. 33 ranked prospect in the country.
You can find Matthew Postins on Twitter @PostinsPostcard