Baylor Bears
Three Thoughts on Big 12 Women's Bracketology for Jan. 24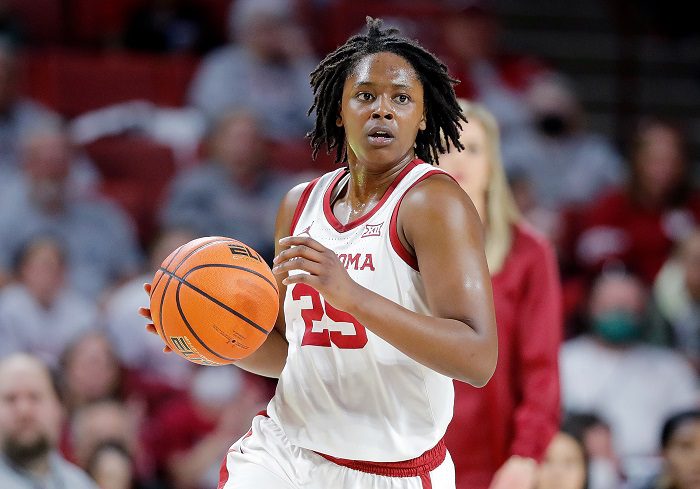 The Big 12 is back to just six teams in ESPN's most recent Bracketology for the Women's NCAA Tournament next March.
The Big 12 also had six teams last week. Here are three thoughts on ESPN's latest Women's Bracketology from a Big 12 perspective.
One is the Loneliest Number
After four different Big 12 teams hosted sub-regionals last year, Oklahoma is the only team in line to do it right now. The Sooners remained a No. 4 seed after the new Bracketology came out on Tuesday, the result of a thrilling 97-93 win over Oklahoma State on Saturday.
The Sooners remain the deepest team in the conference. They have a one-game lead on the field, and this week allows them to create some distance between themselves and the most serious contenders.
The Sooners travel to Texas on Wednesday and then to Iowa State on Saturday. Both the Longhorns and the Cyclones are one game back in the Big 12 standings. If the Sooners win both of those games, they'll have a two-game lead on the field with half the schedule remaining.
Win both of those games and the Sooners might move up a seed line to No. 3. Win both of those games and the Sooners might host a sub-regional no matter what happens the rest of the way.
Oklahoma State Holds Steady
I was interested to see what would happen to Oklahoma State when the new Bracketology came out. The Cowgirls lost both of their games last week, but they lost to ranked teams. First, they fell to Iowa State. Then, they lost to Oklahoma. But Oklahoma State lost those games by less than 10 points combined.
So what happened? The Cowgirls remained a No. 9 seed for the third straight week. I think that's fair, given the competition and the quality of both games.
Now Oklahoma State is 13-6, 3-4 in the Big 12. This week features Kansas State on Wednesday, a game where I would favor OSU to win, but it's no given. Then the Cowgirls go to Texas on Saturday, a team they beat at home.
After that, Oklahoma State has an opportunity, I think, to solidify itself as an NCAA Tournament team with games against Texas Tech, TCU, and West Virginia. Those are all teams that, on paper, Oklahoma State can beat.
If the Cowgirls run that three-game stretch with three wins, I think Oklahoma State will be dancing come mid-March.
WVU Back on the Bubble
Briefly last week, Texas Tech got a boost onto the Tournament bubble after its victory over Texas. But, the Lady Raiders fell on Saturday weekend to West Virginia. That gave the Mountaineers an opportunity to take Texas Tech's place.
West Virginia beat the Lady Raiders by 10 points in Morgantown, improving its overall record to 13-5, with a 4-3 record in the Big 12. While the Lady Raiders have two more overall wins than West Virginia, the Lady Raiders' conference record is 3-4.
With that, West Virginia took Texas Tech's place as one of the Next Four Out when it came to Tuesday's Bracketology. For West Virginia to stay there, or to improve its standing, it cannot afford to lose its next game against TCU on Saturday.
Then, the Mountaineers have a gauntlet to start February. They host Texas, travel to Oklahoma, then to Oklahoma State, and then host Iowa State. That stretch will likely determine whether or not the Mountaineers go to the NCAA tournament or the WNIT.
Big 12 Teams in Projected Women's Field
The Big 12 has six teams in the field. The seeds include:
Oklahoma, No. 4 seed (Seattle Region), vs. Northern Iowa, at Norman, Okla. (was No. 4 seed last Tuesday)
Iowa State, No. 5 seed (Seattle Region), vs. Rhode Island, at Chapel Hill, N.C. (was No. 5 seed last Tuesday)
Baylor, No. 6 seed (Seattle Region), vs. Washington, at College Park, Md. (was No. 6 seed last Tuesday
Texas, No. 7 seed (Greenville Region), vs. USC, at Baton Rouge, La. (was No. 7 seed last Tuesday)
Kansas, No. 9 seed (Greenville Region) vs. Middle Tennessee, at Columbia, S.C. (was No. 9 seed last Tuesday)
Oklahoma State, No. 9 seed (Greenville Region) vs. Arkansas, Bloomington, Ind. (was No. 9 seed last Tuesday)
You can find Matthew Postins on Twitter @PostinsPostcard.