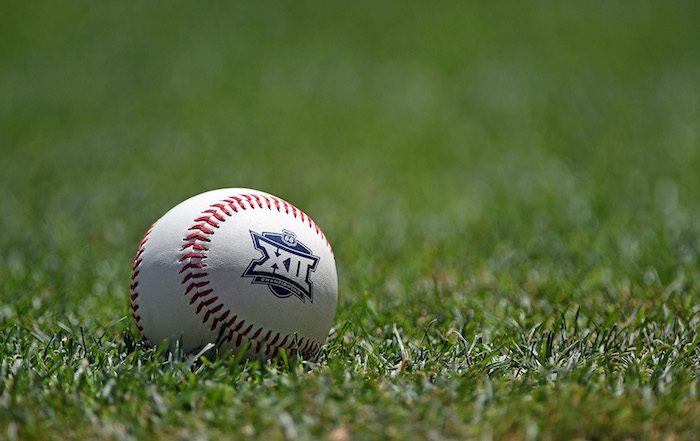 With the Big 12 baseball schedule set to get underway in less than a month, preseason lists and awards are being released by the conference.
In an official release on Wednesday, the Big 12 Conference named 17 players to its All-Big 12 Preseason Team for 2023.
TCU infielder Brayden Taylor, Oklahoma State starting pitcher Juaron Watts-Brown and utility Nolan McLean, and K-State infield Nick Goodwin were the four unanimous selections to the team. Taylor was named Preseason Player of the Year, while Watts-Brown was named Preseason Pitcher of the Year and Preseason Newcomer of the year. 
Here's a look at the entire Preseason All-Big 12 team, courtesy of the Big 12 Conference.
Preseason All-Big 12 Team
C- Hudson White, Texas Tech
IF- Nick Goodwin, Kansas State*
IF- Jackson Nicklaus, Oklahoma
IF- Marcus Brown, Oklahoma State
IF- Roc Riggio, Oklahoma State
IF- Brayden Taylor, TCU*
OF- John Spikerman, Oklahoma
OF- Austin Davis, TCU
OF- Elijah Nunez, TCU
DH- Ty Coleman, Texas Tech
UT- Nolan McLean, Oklahoma State*
SP- Juaron Watts-Brown, Oklahoma State*
SP- Lucas Gordon, Texas
SP- Tanner Witt, Texas
SP- Mason Molina, Texas Tech
RP- Luke Savage, TCU
RP- Garrett Wright, TCU
*- Unanimous selection

Preseason Player of the Year
Brayden Taylor, TCU
Preseason Pitcher of the Year
Juaron Watts-Brown, Oklahoma State
Preseason Newcomer of the Year
Juaron Watts-Brown, Oklahoma State
Preseason Freshman of the Year
Anthony Silva, TCU