Baylor Bears
Big 12 Basketball: A Deep-Dive Into Roster Experience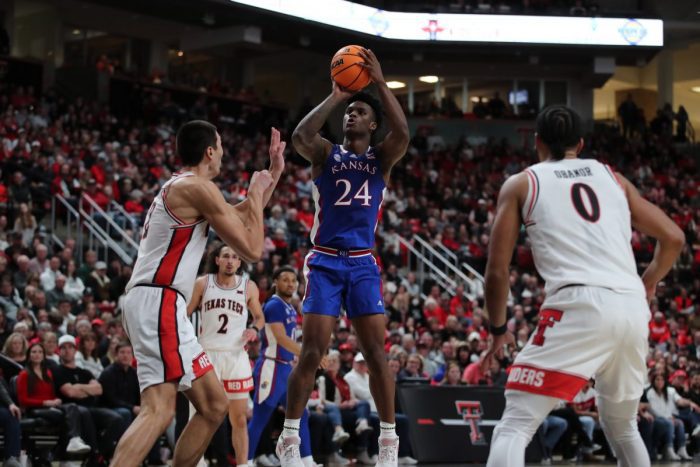 With the addition of the COVID year and the transfer portal, college basketball rosters look much different than they used to. For example, the 1991 Michigan basketball team, better known as the "Fab Five" ushered in Freshmen starting to become extremely commonplace.
More recently John Calipari and Kentucky have used the one-and-done rule to their advantage as Kansas fans know all too well from 2012. Duke's 2019 team earned wide praise with the Freshmen quartet of Zion Williamson, Cam Reddish, RJ Barrett, and Tre Jones.
Since then, however, the way college basketball rosters are completely different. In fact the youngest team in the Big 12 this season is Texas Tech, despite the fact that over 55% of their minutes have gone to players who're in at least their third year of College Basketball
Before I start dropping graphs, and numbers here's how I got them. The minutes in this are from Big 12 play only, and every player was given a number for years spent in College programs, playing or not. There were a few interesting cases, for Texas Tech Fardaws Aimaq is in his fifth year of College basketball, despite redshirting after his Freshman year, for most of the year number will correlate to their class coming out of High School.
An exception to this was Iowa State's Conrad Hawley, who's listed as a sophomore, but only because he was a Kansas football player, so I kept him as being in his first year. Another case would be Kevin McCullar, who is listed as a super senior, but only because he got injured in High School and reclassified to help with his rehab, 247 for example still lists in the 2019 class.
One thing that's noticeable is that all the information was taken on MPG by Sports Reference, then multiplied by games the player appeared in. No team's minutes total are exactly how many minutes were available, but all are within five, and for rankings purposes I used averages, so for the most part it isn't overly important. All games and stats were pulled on the morning of January 24th, after Baylor and Kansas met.
Team by Team
Baylor
Iowa State
Kansas
Kansas State
Oklahoma
Oklahoma State
TCU
Texas
Texas Tech
(This one looks different, because I started on it before the seventh game was in)
West Virginia
Average Experience
For this stat, I just weighed all the minutes per experience level and divided it by five. So if a team is playing exclusively with all third-year players their average experience would be 3. Here's how that looks for all Big 12 teams.
Next, I compared the teams in terms of how many minutes Freshmen, guys with 3+, and 4+ years of experience had gotten.

Takeaways
There are some interesting takeaways here, first the fact that every team in the Big 12 is giving over 55% of their minutes to guys in at least their third year is a huge change to the college landscape. As is 80% of the league giving that same number to players in their fourth year or more. Now experience doesn't guarantee success, as you can see with West Virginia ranking third in experience but 9th in the Conference. On the flip side, Texas Tech's roster is very similar to Kansas and Baylor, with all three being either in the top or bottom four together in all four metrics. One key distinction is both Kansas and Baylor are featuring a Freshman expected to enter the NBA draft.
Kansas State is far and away the most experienced team in the conference, with 0 minutes going to Freshmen, over 86% going to guys in their fourth year and up, and a whopping 63.48% going to guys in their fifth or sixth year. The moral of the story is they're sure to be busy in the portal this offseason. The other team with no freshman minutes is TCU, they also don't have any second-year guys receiving minutes either. One huge difference however is that over 42% of their minutes have gone to third-year players, and a similar number to fourth-year guys, all of which can return next season.
Iowa State has one of the strangest gaps in their roster, with Freshmen accounting for over 20% of their minutes, no second or third-year guys, 26% for fourth, and over 50% for fifth-year players. West Virginia has a spread that should concern fans, with only 20% going to players in their first two years, and nearly 80% coming from fourth and fifth years. What makes this more troubling is they're yet to get a single commitment in their 2023 class.
Why Has College Basketball Has Gotten So Much Older
With the G-League route now a major option, many former one-and-done type players are completely bypassing the college route. Not to say we won't see Grady Dick's or Keyonte George's anymore, we certainly will, but I'd be surprised to see teams composed of them as much as they were. The Covid year has also made fifth and sixth-year players much more prominent, as you can see from Kansas State's team. NIL has factored into this too, some experienced players are now more hesitant to go pro in Europe when they could still bring in large salaries here. The transfer portal has also diminished the importance of high school recruiting, or working on Freshmen "projects", an easier path is to get an older guy, then go pick off that freshman a couple of years down the road when he's been developed by a mid-major.