Big 12 News
Brock Purdy Named AP Offensive Rookie of the Year Finalist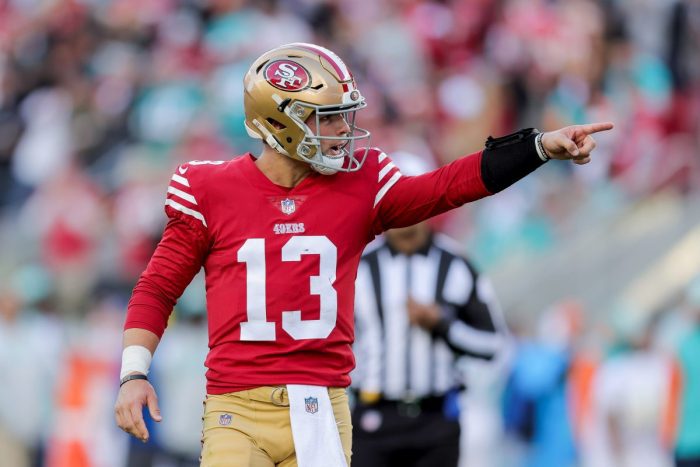 Finalists for the Associated Press' 2022 NFL awards were announced on Wednesday on the NFL Network's Good Morning Football.
Finalists were determined using a new voting system for the AP, which asked voters to rank their top five selections for the MVP award, and the top three candidates for the other awards.
One of the more interesting award races this season, outside of the MVP, is the race for the Offensive Rookie of the Year.
For the longest time, it appeared that Seahawks' running back Kenneth Walker III or Jets WR Garrett Wilson might be the runaway favorite for the award. However, when Jimmy Garoppolo went down against Miami in Week 13, Brock Purdy was thrust into action and has become the darling of the league since that point.
Purdy came in in relief of Garoppolo and led San Francisco to a 33-17 win over the Dolphins after completing 25 of 37 pass attempts for 210 yards and two scores with one interception. Then, in his first start, Purdy beat Tom Brady and Tampa Bay 35-7 and has been on fire since. Since Week 13, Purdy has completed 68.3% of his passes for 1,308 yards, 13 touchdowns, and just three interceptions, while adding three scores on the ground. All of that, combined with a great team around him, has led Purdy to a record 7-0 career as a starting rookie quarterback in the NFL.
That is exactly why Purdy has made a strong push for the Offensive Rookie of the Year Award, and has now been named a finalist.
Here's a look at the Finalists for the Offensive and Defensive Rookie of the Year awards.
AP Offensive Rookie of the Year
AP Defensive Rookie of the Year
Sauce Gardner, Jets CB
Aidan Hutchinson, Lions DE
Tariq Woolen, Seahawks CB
Winners will be announced on February 9, 2023, at the 12th annual NFL Honors Ceremony, which will air live on the NFL Network, NBC, and on the Peacock app.