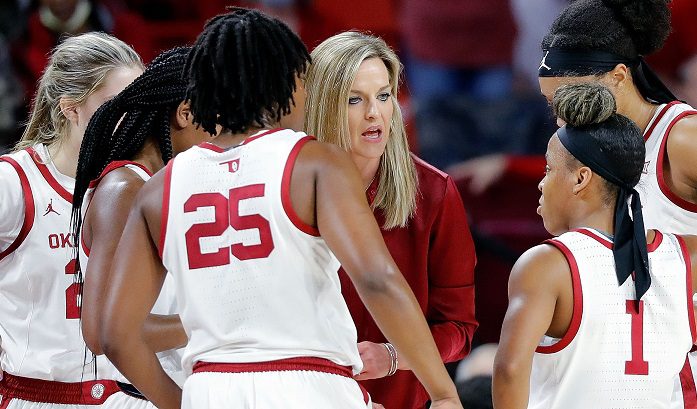 Oklahoma women's basketball coach Jennie Baranczyk has a simple philosophy on basketball, and it's part of the reason the Sooners score more points than every other Big 12 team.
"It's fun," she said after the Sooners defeated Oklahoma State, 97-93. "It's fun, and I want to make it fun."
The Sooners are ranked No. 14 and preparing to face Texas on Wednesday night. Oklahoma goes into that game with a one-game lead in the Big 12 standings, due in large part to the way the Sooners play offense.
Oklahoma leads the conference in scoring at 87.3 points per game. That's nearly 10 points better than Oklahoma State at 77.8 points per game. OU has maintained that average in Big 12 games, averaging 87 points.
Nationally, the Sooners are No. 3 in scoring, behind only LSU (88.2) and Iowa (87.6). It isn't an anomaly. When Baranczyk took over before last season, she installed an offense that basically gives everyone the green light to shoot.
The offense agreed with the holdovers from the Sherri Coale era. In Coale's final season in 2020-21, the Sooners averaged 73 points. In Baranczyk's first season, the Sooners averaged 82.6 points.
Saturday's Bedlam game was a showdown of offensive contrasts. OSU's offense likes to create scoring off the dribble. OU wants to create it off the pass, using motion to get players free around the floor. Whereas OSU uses more sets, OU allows its players to move more freely.
"Oh, yeah, like she said it's fun," Oklahoma's Madi Williams said. "And I don't know why we would want to play any other way, where everybody has the green light and we're making reads … We know it so we're able to play and just keep playing. You don't have to stop."
That part is by design, Baranczyk said.
"There's a time and place that we're going to call a set, Right?" Baranczyk said. "There's a time and place that we've got to figure that out, but they're (the players) going to read better reads than I can coach and when they can play intuitively when they can play to their authentic selves in their game, I don't think there's anything better."
The Sooners' three super-seniors have all benefited from the approach. Williams is the team's leading scorer, averaging 16.9 points, tied for third in the Big 12. Ana Llanusa is averaging 13.3 points and Taylor Robertson is averaging 11.2 points.
In Big 12 play, Llanusa has emerged as the scorer from outside, as she's averaging 20.1 points and just passed the 1,500-point mark for her career. Williams is right behind her, averaging 17.7 points and Robertson is averaging 12.4 points.
But that isn't all. Guard Skylar Vann is averaging nearly 11 points this season, guard Nevaeh Tot is getting 8.6, and forward Liz Scot is averaging nearly eight per game.
The Sooners have scored at least 90 points in eight games this season, and their four-point win over OSU came in front of an announced crowd of more than 9,000. The philosophy isn't just good for the players. It's fun for the fans.
"Did anybody come here tonight saying 'No, they were terrible. That was a terrible game. I'm never coming back.' Not one person. Not one person," Baranczyk said.
The Sooners' fortunes in the NCAA Tournament will likely come down to how well it can play defense, and Baranczyk said OU needs to keep working on that. Giving up 93 points to Oklahoma State wasn't ideal.
But she knows one thing — in Year 2 of the installation of her offense, the Sooners know who they are and, more importantly, how they complement one another.
"It's decision-making experience to understand you're different than Taylor, than Ana," she said. "And it's not just about you. It's not just about Taylor, It's not just about Ana, it's about everybody. But then she (Williams) knows exactly what Taylor's strengths are and values and exactly what Ana's strengths are and values them. So to me, it carries over into life as well."
You can find Matthew Postins on Twitter @PostinsPostcard