Kansas Jayhawks
Kansas, UCF Make CBS Sports' List of Teams to 'Make Noise' in 2023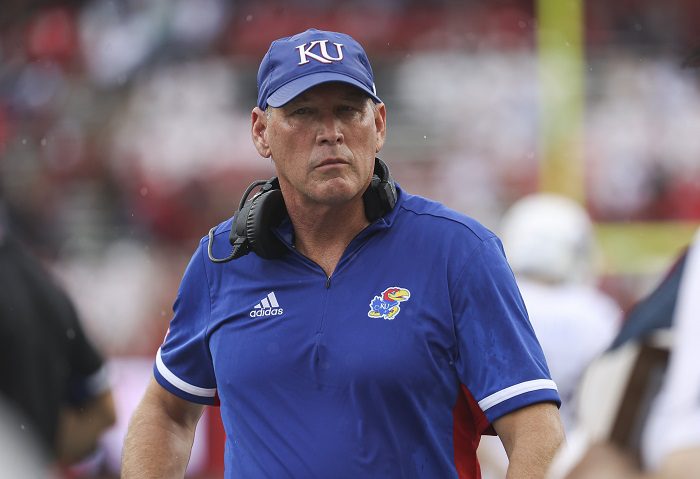 The 2022 college football season ended just a little over two weeks ago, which means that he have a ton of time before anything meaningful will be produced concerning the 2023 season. However, this is one f the most entertaining parts of the offseason, as the "Way-Too-Early" lists are running rampant.
CBS Sports released something even more unique on Tuesday, a list titled "12 college football teams that can crack the top 25 and make some noise in 2023." On that list, Dennis Dodd included two Big 12 teams with Kansas and UCF primed to "make some noise."
Here's what Dodd had to say about each of them.
UCF (No. 9 on the List)
"Any evaluation has to be tempered with the Knights moving up a weight class into the Big 12. We know QB John Rhys Plumlee (almost 3,500 total yards) can play at the highest level. Once again, Gus Malzahn has given up the play-calling duties. This time to Darin Hinshaw, last at UAB and a UCF analyst in 2021. Back-to-back nine-win seasons under Gus suggest the Knights are going to be competitive in the Big 12 right away beating a better class of competition."
Kansas (No. 10 on the List)
"If the Jayhawks get better in the defensive line, they will be a bowl team again this year. Lance Leipold knows this. He is addressing it. That deficiency helped lead to a 1-7 finish after the Jayhawks became an early-season darling. The offense is set with second-team All-Big 12 QB Jalon Daniels who threw for 555 yards at five TDs in the Liberty Bowl against Arkansas."
With the addition of UCF, along with BYU, Houston, and Cincinnati, the Big 12 will be full of teams that can jump up and challenge for the Big 12 crown in any given season. As big of a change as that is, perhaps nothing will be more impactful on the Big 12's strength of schedule and overall national perception than if Kansas continues to improve and leaves the conference without a gimme win each week.
All four incoming Big 12 teams made a bowl game this season, and eight of the 10 teams from the league in 2022 made a bowl. That's 12 out of 14 teams in a league that went bowling last season if you're counting. If that trend continues in 2023, it could be an incredibly fun year in the Big 12.