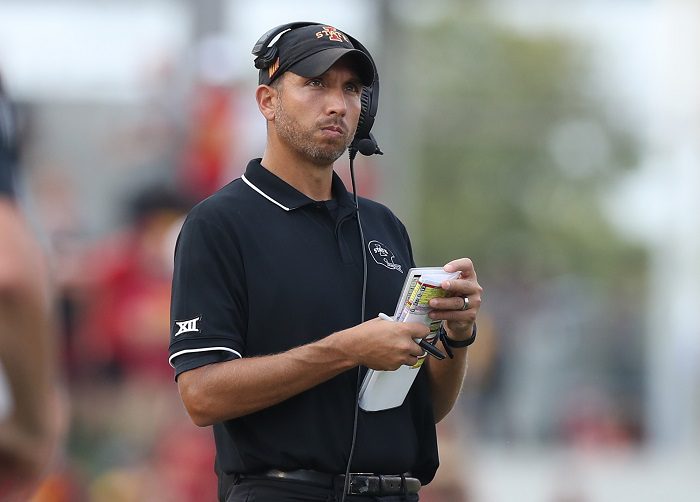 The Iowa State Cyclones coaching staff is welcoming a new coach to their ranks, former North Dakota State wide receiver coach, Noah Pulley. Pulley has been hired to fill the same spot as a WR coach for the cyclones as he has a proven track record of developing big-time playmakers at the receiver position.
Pauley helped turn North Dakota State wide receiver Christian Watson into an early second-round pick for the Green Bay Packers and Watson had a major impact in his rookie year. Watson snagged 41 catches for 611 yards in his first season with the Packers, but his largest impact came in the red zone snagging seven touchdowns as a rookie.
Pauley joins Matt Campbell's coaching staff in what should be a great test for Pauley in his first season in Ames. Pauley joined the North Dakota State University football staff as wide receivers coach in 2019 after spending three seasons as the offensive coordinator and wide receivers coach at Minnesota-Duluth.
Pauley coached in two Missouri Valley Football Conference championships and two NCAA Division I FCS national championships at North Dakota State and led an NDSU receiving corps that helped put up the third most passing yards (2,911) and touchdowns (29) in school history as the Bison went 16-0 in 2019.
Pauley was a four-year starter for Minnesota-Duluth as a player from 2007 to 2010. He played on teams that went 45-8 and won two Division II national championships before joining the Bulldogs staff as a student assistant for the 2011 season. He coached UMD's wide receivers for two years as a graduate assistant in 2013 and 2014 before spending one year as the assistant dean of students and athletic director at North Star Academy in Duluth.
Pauley returned to UMD in 2016 as the offensive coordinator, directing a unit that rolled up the second-most yards (536.7 per game) and points (45.1) in school history. The Bulldogs led Division II in time of possession and ranked second in total offense. He coached six all-conference wide receivers at UMD, including All-America receiver and return specialist Aaron Roth.
Iowa State hiring Pauley looks to be a great signing as everywhere that Pauley has coached, he has sustained success. Pauley will need to help Iowa State's offense find a way to produce following an underwhelming season in 2022.