Trending Now
San Diego State AD Threatens Pac-12 for Invite Using Big 12 as Leverage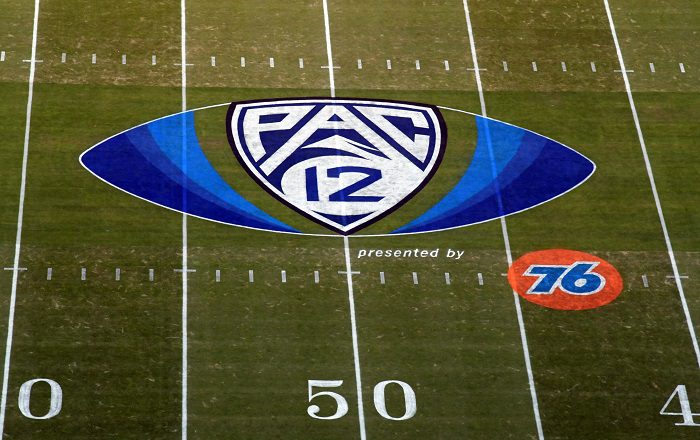 Following an offseason that saw media members, athletic directors, and players use the word expansion no less than 8,000, smoke is starting to catch up to the Pac-12 conference amid conversations of a Southern California market.
With both USC and UCLA jumping ship and joining the Big Ten in the offseason, the Pac-12 has no choice but to entertain San Diego State's offer to join the conference.
San Diego State has been hoping to make a switch from the Mountain West Conference to the Pac-12 for a while and had always been shelved with the conference basically saying that the addition will happen, eventually. SDSU is now at the forefront of negotiations as the conference lost two of its biggest attractions in USC and UCLA and now, the Pac-12 is staring down the sights of a conference without a Southern California team. Enter one SDSU.
San Diego State athletic director J.D. Wicker is in charge of a prime expansion candidate for the Pac-12 (or the Big 12), and he knows is.
"We basically went from, 'Hey, you're doing a good job. Your break is coming,' to, 'You're the only team in Southern California that plays FBS football that isn't in the Big Ten,'" Wicker told CBS Sports.
"Now that USC and UCLA are gone, there's nobody really to block us," Jack McGrory, an SDSU alum, and professor on campus for 25 years said. "We're the only viable option to have a team in Southern California."
The time for expansion is now, and with the fruit ripe for the picking, folks at SDSU are sick of waiting for an invitation they've deserved for years.
Recently, San Deigo State athletic director J.D. Wicker told CBS Sports, "You want San Diego State in your league at [a full media rights share] because you don't want us in the Big 12. All the Big 12 schools would have a reason to come to Southern California to recruit."
San Diego State is not only a great target to occupy the vacancy left by the pair of California teams for its location, it also has one of the rare stadium additions in college football history. Snapdragon Stadium was a $310 million dollar project that is built to house even an NFL team. Featuring elite concessions and more bars than the eyes can see, SDSU is definitely in control.
"Pac-12 folks have been impressed with what we've done," Wicker said. "[Pac-12] commissioner George Kliavkoff said to invest in football. I have a $310 million investment."
If SDSU found its way into the Big 12 the opportunity for recruiting west coast players would be a massive hit to the Pac 12's stock, and with conferences renegotiating media rights deals, the Pac 12 can't afford another setback. Look for SDSU to announce continued conversations with Pac 12 bigwigs shortly.