Big 12 News
Three Big 12 Players in Mel Kiper's First 2023 NFL Mock Draft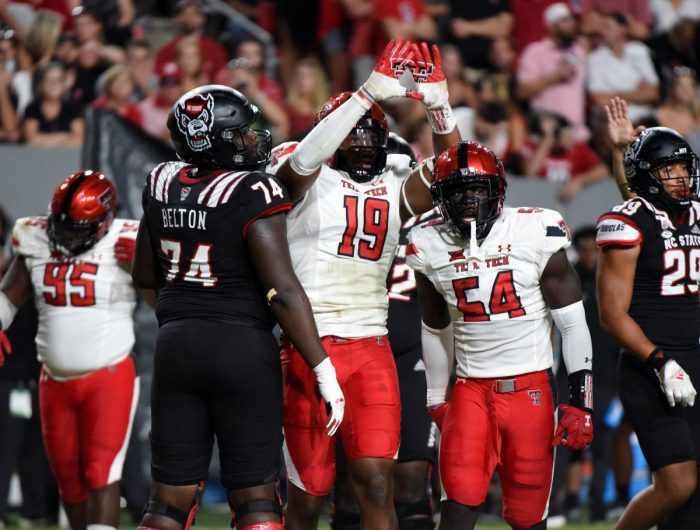 The 2023 NFL Draft will be here before you know it, and Mock Draft season is starting to pick up some serious steam.
Mel Kiper Jr., the NFL Draft Godfather himself, released his first mock draft for the 2023 class and there were three players from the Big 12 on the list of 31 picks.
Let's take a look at each of his Big 12 picks and what he had to say about each of them.
Tyree Wilson (No. 6 Pick, Detroit Lions)
"The Lions finished the season with eight wins in their final 10 games, but their explosive offense papered over massive holes on the other side of the ball. They ranked last in the league in yards per play allowed (6.2) and opposing QBR (55.9); they had issues defending the run and the pass. Wilson, the top true defensive end in this class, would help both. He can use his burst at the snap to beat offensive tackles on passing downs or use his 6-foot-6 frame to hold up against the run. An edge-rushing duo of Wilson and Aidan Hutchinson would be formidable, with surprise rookie James Houston working in on obvious passing downs.
"Plus, if Detroit plays its cards right, it could use the No. 18 pick on a cornerback — this is a little too high to take one. And if you're curious about the quarterback position, general manager Brad Holmes likely will take a close look at this class and weigh each passer against veteran Jared Goff, who had a stellar second half of the season. (This pick is from the Matthew Stafford swap with the Rams.) In this scenario, though, the top three are off the board."
Quentin Johnston (No. 22 Pick, Baltimore Ravens)
Offensive coordinator Greg Roman is out, and quarterback Lamar Jackson's future with the Ravens is uncertain after he and the team haven't been able to agree to a new contract. Coach John Harbaugh isn't used to this sort of chaos. Still, I think Jackson will be back — potentially on the franchise tag — in which case he needs someone to catch passes. Baltimore still hasn't gotten its receiving corps right; it ranked last in the league in receiving yards by wideouts (1,517). Rashod Bateman, a first-rounder in 2021 who has struggled with injuries, has just three touchdowns in 18 career games.
Johnston could help the Ravens stretch the field. He averaged 17.8 yards per catch for the Horned Frogs this season. At 6-4, he's still developing as a route runner, and he's a physical mismatch once he gets his body into defensive backs and leaps for the ball. Jackson could use Johnston's length in the red zone.
Bijan Robinson (No. 26 Pick, Dallas Cowboys)
This just makes sense, right? Team owner Jerry Jones loves star running backs, going back to his days of drafting Emmitt Smith in Round 1 in 1990, and he repeatedly has said Ezekiel Elliott is the Cowboys' most important player. Well, Elliott could be a salary-cap casualty this offseason, and Tony Pollard — who made the Pro Bowl this season — broke his left leg in the divisional round and is a free agent. Could Jones and the Cowboys start over and take Robinson, the best back in this class, here? Robinson also is a great pass-catcher, so he's more than just a between-the-tackles runner. He could also take some of the pressure off quarterback Dak Prescott.
I thought hard about defensive tackle with this pick, with Bryan Bresee (Clemson) and Mazi Smith (Michigan) as two possibilities. Dallas struggled at times stopping the run.