featured
Charlie Kolar on Brock Purdy: 'I Think He'll be the Same Brock You've Been Seeing'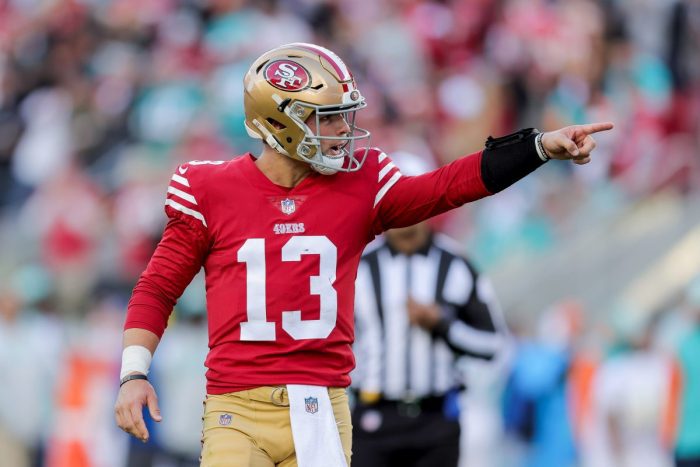 Brock Purdy is a San Francisco 49er, but long before that he was an Iowa State Cyclone alongside Baltimore Ravens tight end Charlie Kolar.
Purdy and Kolar were integral in Iowa State's success over their time in Ames, culminating in the program's first-ever New Year's Six Bowl win, a 34-17 victory over Oregon in the 2021 PlayStation Fiesta Bowl.
Over four seasons, Purdy and Kolar connected on countless big plays, all a part of the tight end's stellar career at Iowa State that ended with 168 receptions for 2,181 yards and 23 touchdowns.
While he may not be in the same locker room with Purdy anymore, Kolar sees the same kind of chemistry that he used to have with Purdy going on in San Francisco, but it is All-Pro tight end George Kittle who is on the receiving side now.
"Obviously, I don't have access to the playbook, but I'm pretty sure some of the plays they're completing aren't the correct plays," Kolar said on 49ers Talk.
"But they find a way to make it work."
During their time in Ames, Kolar watched Purdy ascend to the top of the depth chart to become the greatest quarterback in Iowa State history, and now, under different circumstances, Purdy has again climbed to the top of the depth chart and is carving out a legacy for himself in his rookie season. With his ability to make off-schedule plays when the pocket collapses, Purdy has proven to be a catalyst for the 49ers offense, just as he was with Iowa State.
"Sometimes when he wasn't playing great, I'd hope he'd just start scrambling because I knew when he scrambled some crazy stuff would happen," Kolar said. "When he starts to scramble he does a good job of keeping his eyes downfield. And when you're running a route in the middle of field, and he starts to scramble, you can go anywhere. There's a lot of freedom. I think tight ends and slot receivers do a good job of that."
However, as the 262nd pick in the 2022 NFL Draft, also known as Mr. Irrelevant for being the final pick in the draft, this isn't how the season was supposed to go for Purdy.
"I thought it was perfect for Brock," Kolar said of Purdy being the final pick of the 2022 Draft. "I knew he'd embrace Mr. Irrelevant, and he wouldn't care about all that other stuff."
Nonetheless, here he is, starting at quarterback in the NFC Championship game against the No. 1 seed Philadelphia Eagles on Sunday, and his old college teammate doesn't expect to see anything different despite the bright lights and the chance at a Super Bowl.
"I think he'll be the same Brock you've been seeing: Poised, making good plays," Kolar said.
Jalen Hurts' Eagles and Brock Purdy's 49ers will face off at 2:00 p.m. CT on FOX, the first meeting between the two quarterbacks since their 42-41 classic in Norman in 2019.