featured
Ranking Quarterbacks in 2023 NFL Conference Championship Game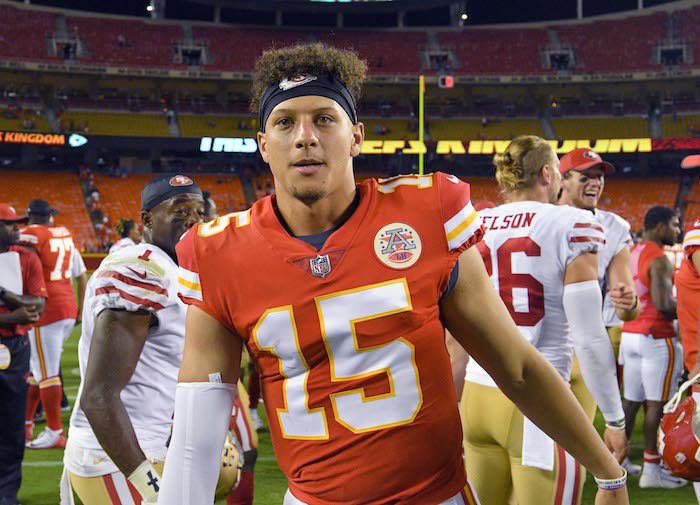 Three of the four quarterbacks under center in the 2023 NFL conference championship round happen to be former Big 12 quarterbacks. These quarterbacks include Texas Tech's Patrick Mahomes, Iowa State's Brock Purdy, and Oklahoma's Jalen Hurts.
The lone quarterback outside the Big 12 conference is Joe Burrow who played for LSU in the SEC. In today's article, we're going to take a look at the four remaining playoff quarterbacks and rank them one through four.
1. Patrick Mahomes
All of the conversation leading up to the AFC championship game in Kansas City has led to Patrick Mahomes taking some ridiculous shots from all over the NFL landscape. Forget "Burrowhead" and forget NFL Network's Peter Schrager's comments saying, "If Burrow beats Mahomes in four straight games, how can you make the argument that Mahomes is better than Burrow?" I'm going to put that all to rest right now.
Patrick Mahomes and the Chiefs have led by 11 points, 18 points, and four points in each of their past three matchups against the Bengals, and in those three matchups, it took the Chiefs making major mistakes to let Burrow back in the game. Mahomes threw for a total of 757 yards, 6 touchdowns, and two interceptions against the Bengals while Burrow has thrown for 982 yards, 8 touchdowns, and one pick.
While this comparison isn't just between Burrow and Mahomes there is a very, very, short list of players who can actually stack up against Mahomes. That being said, the 27-year-old quarterback has been the face of the NFL since exploding onto the scene in the 2018 season and has yet to look back. Mahomes is on pace to win his second MVP award, has led his team to five consecutive AFC Championship Game appearances since taking over as a starter, and has a chance to win his second Super Bowl all before turning 30. Mahomes is elite.
2. Joe Burrow
While many are making the case as to why Burrow should be above Mahomes, I believe that Burrow is a close second. Similar to Mahomes, there is a very short list of players who can stack up to Joe Burrow's level at this point in his career i.e. Patrick Mahomes and Josh Allen. The trio of Burrow, Allen, and Mahomes is the next generation of elite quarterbacks in the NFL and I anticipate the AFC being a gauntlet for the next 15 years.
Joe Sheisty, Joe Brrr, Joey Franchise, or whatever you want to call him has had a prolific start to his career. After battling knee injuries in his rookie year Burrow has blossomed into an elite player that every defense should take note of. Burrow entered the playoffs as the third-best quarterback in the entire playoffs in my mind, and watching him outplay Josh Allen in the Bills was massive for his legacy.
Burrow has already thrown for 11,774 yards in his career with a touchdown to interception ratio of 82-31. Since coming into the NFL, he has been as close to perfect as it gets and it's tough to imagine Burrow not succeeding at the pro level. Joe Burrow and the Bengals have a massive statement game on the horizon when they take on Mahomes and the Chiefs in the AFC Championship game at Arrowhead.
3. Jalen Hurts
Let's not all forget the incredible season Hurts and the Eagles have had. Before suffering a shoulder injury late in the season, NFL media was split on the MVP award between Hurts and Mahomes, and Jalen Hurts was every bit deserving of that conversation.
Hurts threw for 3,701 yards this season which was good for tenth in the NFL among quarterbacks adding 22 passing touchdowns and six interceptions. Hurts missed games that would have put him well above the 4,000-yard mark passing this season but what stands out about him is his dual-threat capability.
Jalen Hurts channeled prime Cam Newton and became one of the most feared red-zone players in the league, scoring 13 times this season on the ground. He added 760 rushing yards on 4.6 YPC which helped the Eagles to a record of 14-3 in the best season since their Super Bowl season in 2017. Hurts takes on the NFC's best defense in San Fransico on Saturday in what is going to be the biggest test for Nick Sirianni's bunch this season.
4. Brock Purdy
I know, I get it. Purdy has been incredible since starting in place of the injured Jimmy Garrapolo this season but I haven't seen enough to overtake Hurts, Burrow, or Mahomes. Purdy is a perfect 7-0 when starting this season and has had one of the greatest statistical seasons for a rookie in NFL history.
That being said, the limited sample size hurts Purdy. Throwing for a total of 1,374 yards and a touchdown to interception ratio of 13-4 has been more than enough to keep the 49ers winning however I believe that the other three quarterbacks have a veteran edge over Purdy, even if we haven't seen it just yet.
Last is not a rare space for Purdy on any list as he was the last player taken in the 2022 draft, which makes his achievements so much more impressive. Purdy is going to be tested against a Philidelphia Eagles team that is loaded at every position and I think the 49ers may find themselves playing from behind in this one. Regardless of the outcome, I believe Purdy will have a long and successful career in the NFL and we are already seeing the start of it. Brock Purdy became the first ever seventh-round rookie to start a game in the Divisional round of the NFL playoffs and is also now the first player to do so in a championship game. Brock Purdy is anything but irrelevant.