Basketball
Watch: Taylor Robertson Break All-Time NCAA 3-Point Record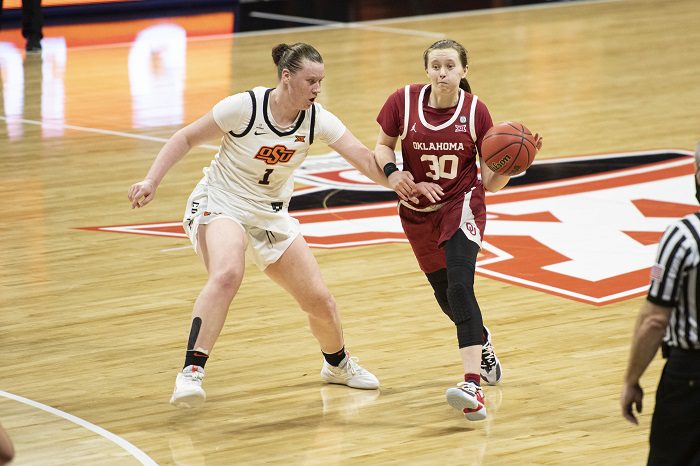 Oklahoma guard Taylor Robertson's record-breaking 3-pointer came in the first quarter against the Iowa State Cyclones on Saturday afternoon.
With that shot, Robertson became the all-time leader in career 3-pointers in NCAA history, a record previously held by Ohio State's Kelsey Mitchell, who had 497 for her career.
After Robertson tied Mitchell on Wednesday night against Texas, she had to wait three days to put up the shot that would put her name at the top of the list of the most prolific shooters in NCAA history.
She put herself into history with career 3-pointer No. 498 in the fifth quarter in a Top 20 matchup between the No 14 Sooners and the No. 18 Cyclones.
Robertson made the shot with 4:18 left in the quarter. She dribbled down on the left side of the court, took advantage of a pick and put up the record breaker. It was her first of three made 3-pointers of the quarter, which left her with 500 3-pointers, the first women to ever reach that benchmark.
Robertson, a 6-foot guard from McPherson, Kan., is in her fifth year of college basketball, thanks to a COVID-19 waiver that allowed her to play another season. But she set the record in her 138th career game, one fewer than Mitchell did it in four seasons. Mitchell played for the Buckeyes from 2014-18.
Robertson entered this season the all-time career leader in career 3-pointers for both Oklahoma and for the Big 12. She took over the OU record with her 377th 3-pointer on Dec. 21, 2021. She took over the Big 12 lead on Jan. 12, 2022, with her 393rd career 3-pointer.
When Robertson hit her 400th 3-pointer on Jan. 19, she became the 11th women's player to make at least 400 3-pointers. She did that in 102 games, faster than any women's player in NCAA history. Earlier this season he reached 2,000 career points, with the milestone coming against future Big 12 member BYU on Nov. 15.
Robertson also set a Big 12 record with 59 straight games with a least one 3-pointer and now has at least one 3-pointer in 116 of her last 117 games. Her last game without a 3-poiner game on Feb. 9, 2021, against Iowa State.
She also holds the record for most games with at least five 3-pointers with 41. Robertson leads all current players in made 3-pointers, made 3-pointers per game, 3-point shooting percentage, free-throw shooting percentage and total 3-pointers attempted. She is second in 3-pointers attempted per game and fifth in career points.
You can find Matthew Postins on Twitter @PostinsPostcard