Big 12 News
West Virginia Holds Off Auburn For Top 15 Upset in Big 12-SEC Challenge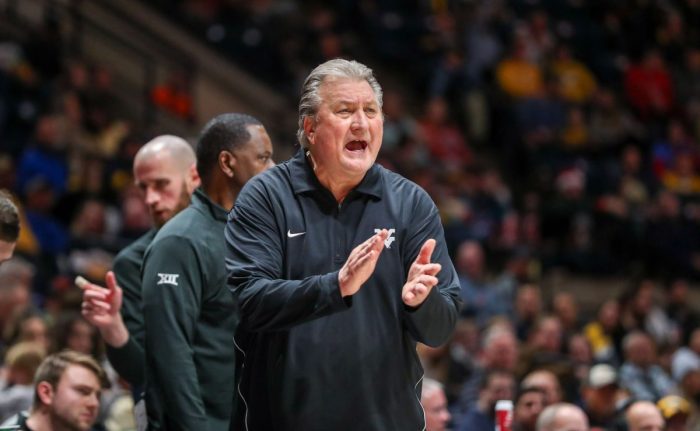 The West Virginia Mountaineers picked up a huge resume booster on Saturday in the Big 12-SEC Challenge by beating No. 15 Auburn 80-77.
West Virginia jumped out to a big lead and carried a 45-29 margin into halftime. The Mountaineers led by as many as 17 points early in the second half before the Tigers came roaring back to nearly tie the game on multiple occasions. Auburn cut WVU's lead down to one point three times in the final five minutes, but could never tie the game or take the lead. The Mountaineers got a huge three-pointer from Erik Stevenson at the 3:42 mark to give WVU a little cushion at 71-67. And two minutes later, with WVU leading 71-70, Stevenson hit another three-pointer for a 74-70 lead.
Stevenson led the way for the Mountaineers with a career-high 31 points to go along with six rebounds. Jimmy Bell Jr. was the only other WVU player in double digits, more than doubling his season average with 15 points on the afternoon.
The Mountaineers did it thanks to their sharp shooting as WVU hit nine of 20 three pointers, good for a 45% clip.
West Virginia is playing its best basketball in weeks as the Mountaineers have now won three of their last four games. WVU began Big 12 play 0-5, but now have two Top 15 wins in their last four games. The Mountaineers beat No. 14 TCU last week 74-65, followed by a loss to Texas last weekend. But WVU handled Texas Tech earlier this week and then picked up another Top 15 win on Saturday in Morgantown.
The Big 12 is considered the best conference in the country this season and with a team near the bottom of the Big 12 standings pulling off the upset against a Top 15 squad out of the SEC, the Mountaineers have helped confirm that belief, while getting themselves a huge resume-building win in the process.
WVU is back in action on Tuesday night at No. 11 TCU.