Big 12 News
Joe Lunardi's Latest Bracketology Moves West Virginia, Oklahoma Up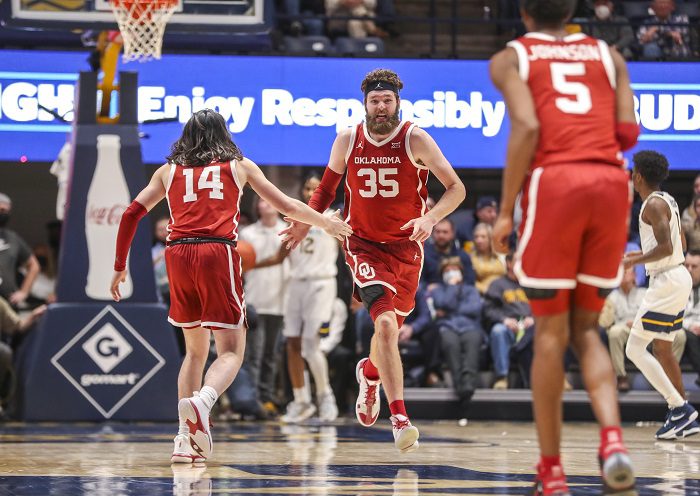 The Big 12-SEC Challenge has officially wrapped up for the last time. In a day that saw multiple top-ranked teams in the SEC crumble to mid-level Big 12 teams, Joe Lunardi believes it's more than just a fluke.
The Big 12 ended the day going 7-3 with critical wins from Oklahoma, West Virginia, and Kansas, where fans witnessed the 11-9 Oklahoma Sooners take down the second-ranked team in the nation in Alabama in a blowout win, 93-69.
Following Oklahoma's massive upset win over Alabama, Joe Lunardi has moved the Sooners into the last four in section as the eighth team from the Big 12 conference to make the NCAA tournament, joining Kansas (two-seed), Texas (two-seed), Iowa State (three seed), Kansas State (three-seed), Baylor (four-seed), TCU (four-seed), and another rising addition, West Virginia projected as one of the last four byes.
Bob Huggins and company had another token win for the Big 12 Conference in their 80-77 victory over the 15th-ranked Auburn Tigers on Saturday in what could be a significant catalyst for this West Virginia team to turn things around after a rough beginning of conference play.
The Big 12 is the best conference in basketball and with wins from West Virginia, Oklahoma, Baylor, K-State, and Kansas, the teams on pace for the NCAA tournament went 5-3 on the day with losses from the Iowa State Cyclones, Texas Longhorns, and TCU Horned Frogs. Conference play resumes early next week and with it brings forth a whole new slate of tough conference match-ups.