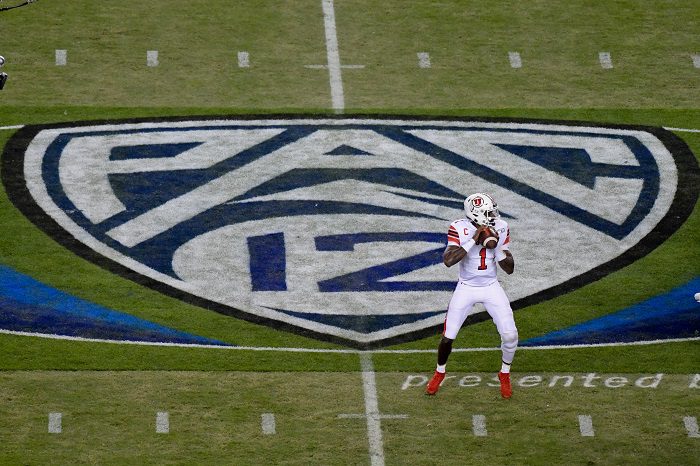 What's going on in the Big 12 and beyond? I expand and explain every Sunday in Postscripts at Heartland College Sports, your home for independent Big 12 coverage.
This week, the Lady Raiders bring their champions back, someone is getting impatient with the Pac-12 (it's not me this time), plus block parties and fish frys.
The Lady Raiders' 30th Anniversary
This past weekend Texas Tech honored its Lady Raiders on the 30th anniversary of its national championship.
Back then, in 1993, I was at Stephen F. Austin covering the Ladyjacks basketball team (yes, I am quite old). Both the Lady Raiders and Ladyjacks were Top 25 teams and I was hoping the two teams could meet in Atlanta in the Final Four.
SFA lost in the Sweet 16 to Vanderbilt (that's not a game I wish to talk about right now). The Lady Raiders won the whole damn thing.
That team is remembered, of course, for forward Sheryl Swoopes, who to me is one of the most unguardable college players I've ever seen. But there were two Lady Raiders on the All-Tournament team in Atlanta. The other was guard Krista Kirkland. You know here these days as Texas Tech coach Krista Gerlich.
That's why Gerlich wore her throwback black Texas Tech jersey while coaching the Lady Raiders against Baylor, in case you missed it. The Lady Raiders played in those jerseys on Saturday. Gerilch is one of three Lady Raiders to have their numbers retired.
That team was built around west Texas basketball, with players from towns you've never heard of unless you were around it like I was, covering high school basketball for a decade after college. Gerlich went to Spearman. Noel Johnson was from Nazareth (the Swifts, if you're interested in cool mascot names). Swoopes was from Brownfield. Michi Atkins was from Loraine. Janice Farris was a Lubbock native.
"We were a bunch of small-town girls that came together and did something really, really big for our community and our school," Gerlich told a Lubbock TV station last week.
Coach Marsha Sharp and her staff built a team that cut through the din of Stanford and Tennessee — the powers of the time — to win a national title. They also snuck in just before UConn became, well, UConn.
The Lady Raiders remained good for a long time after that, but never made it back to the Final Four, making that ring ceremony on Friday night all the more special.
They also honored the team at halftime of the game.
I'm always going to remember that team for showing what is possible when it's about the team and not about the individual, much like the teams that I got to watch at SFA.
This Week in 'As The Pac-12 Turns'
Since USC and UCLA announced their move to the Big Ten, Pac-12 commissioner George Kliavkoff has been insistent publicly that the league would get a new television contract first and then attack expansion. By the way, where is that TV deal, George? Are we at least getting there?
Anyway, I've always felt that order didn't serve the Pac-12 well. They should be doing it concurrently because you can't add value to the conference if you don't add membership. The Big 12 knows this all too well.
An entity like the Pac-12 should be able to walk and chew gum at the same time, right?
Well, one school that is getting impatient with the whole process is San Diego State. The Aztecs are in a Top 15 media market and are the most natural membership option, geographically speaking. No, San Diego isn't Los Angeles. But a Top 15 media market is nothing to sneeze at when you just lost LA.
This is a totally logical thing for the Pac-12 to do. Perhaps they're reassuring the Aztecs privately while they get the TV deal done?
San Diego State athletic director J.D. Wicker is apparently aware he has leverage. We wrote about a report earlier this week that was basically Wicker signaling to the Pac-12 the equivalent of Marisa Tomei telling Joe Pesci "My biological clock is TICKING LIKE THIS!"
"You want San Diego State in your league at [a full media rights share] because you don't want us in the Big 12. All the Big 12 schools would have a reason to come to Southern California to recruit."
This is a true statement. Big 12 teams would totally go do that. It's one of the many reasons why conferences choose to expand.
If I'm Big 12 commissioner Brett Yormark, well, you know what he should be doing right now.
The Bob Huggins Fish Fry
Bob Huggins hosted his annual fish fry in Morgantown on Friday, and while the final donation total isn't in, he was hoping to break the record he set last year of $2.8 million, which came with Kansas coach Bill Self as the special guest.
This year's special guest? Charles Barkley, so you know how that went. They probably broke it.
The event raises money for the Norma Mae Huggins Endowment at the WVU Cancer Institute and the Remember the Miners Flagship Scholars Program. Huggins' ultimate goal is to build a cancer center in Morgantown.
On Saturday, West Virginia promptly went out and beat Auburn in the Big 12-SEC Challenge and now has a two-game winning streak. Auburn, of course, is Barkley's alma mater. He didn't harbor any ill-will afterward, praising the crowd at WVU Coliseum.
The Best Block You'll See All Year
It is not my intention to close Postscripts with something West Virginia-related each week. It just keeps working out that way.
James Okonkwo, do your thing.
You can find Matthew Postins on Twitter @PostinsPostcard