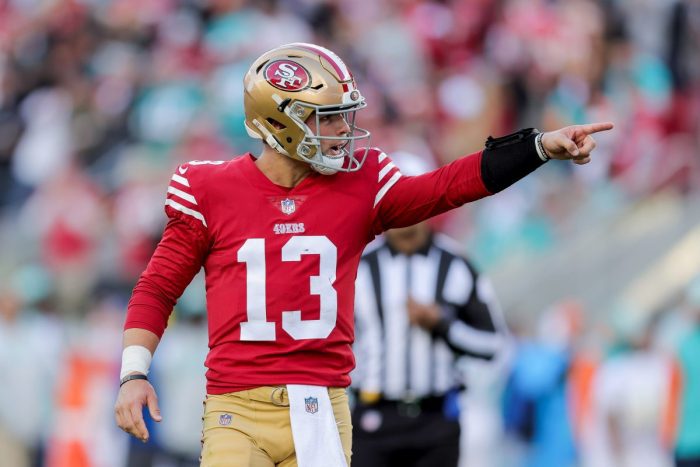 Ric Flair was just one of many that weighed in on Brock Purdy's injury during the NFC Championship Game on Sunday in Philadelphia.
Purdy, the former Iowa State quarterback who led the 49ers on a run to the conference title game after taking over the job in December, had to leave the game after the first possession after suffering what the 49ers called an elbow injury.
While Purdy returned in the third quarter after his backup, Josh Johnson suffered an injury, it was clear Purdy wasn't capable of throwing anything more than screen passes.
In between his departure and his return, Flair, a former professional wrestler, was urging Purdy to return.
A 49ers fan spent some time on Twitter looking for what he hoped would be a capable replacement, reaching out to former 49ers quarterback Steve Young, who led the team to a Super Bowl victory. Young seemed game.
Johnson became the fourth quarterback of the season for the Niners, as Purdy replaced Jimmy Garoppolo, and Garoppolo replaced Trey Lance, who was the opening-day starter.
LeBron James' viral meltdown from the end of the Lakers-Celtics game this weekend also made the rounds.
One fan was so hopeful of a Niners-Purdy comeback that he was hoping to Disney-fy it.
Purdy, who was the final pick in the 2022 NFL Draft, was named a finalist for the Associated Press' NFC Offensive Player of the Year earlier this week. Purdy joined Seattle running back Kenneth Walker III and New York Jets wide receiver Garrett Wilson as finalists.
Since Week 13, Purdy has completed 68.3 percent of his passes for 1,308 yards, 13 touchdowns, and just three interceptions, while adding three scores on the ground. All of that, combined with a great team around him, has led Purdy to a record 7-0 career as a starting rookie quarterback in the NFL.
Purdy finished his Iowa State career owning or sharing 32 school records. He was the winningest quarterback in school history with a 30-17 record. He was 24-11 vs. Big 12 teams and had a 16-1 record as ISU's starting QB vs. Big 12 opponents in Jack Trice Stadium. He started 46 straight games to end career.
He owns virtually all career school passing records, including passing yards (12,170), total offense (13,347), touchdown passes (81), touchdowns responsible (100), completions (993), passing efficiency (151.1) and completion pct. (67.7).
You can find Matthew Postins on Twitter @PostinsPostcard