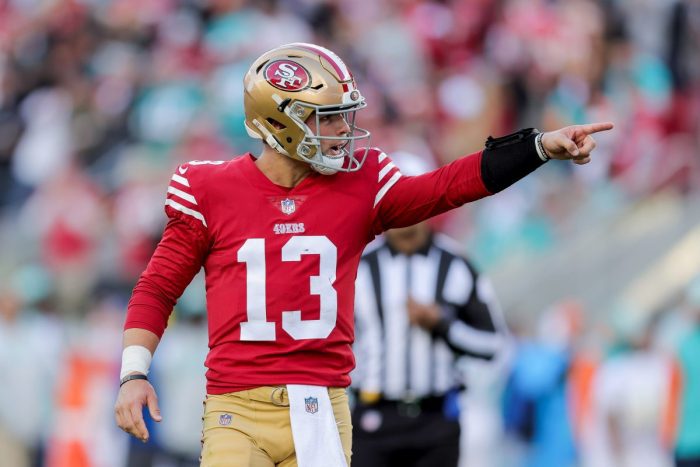 On the first drive of the NCF Championship game, Brock Purdy was hit during a throw and subsequently fumbled the football leading to a turnover in favor of the Philadelphia Eagles.
That turnover would be the last impactful play that Purdy would make in the game, as the hit from Hassan Reddick would render his throwing arm all but useless for the remainder of the game.
Purdy went to the sideline and spoke with team trainers. He then made a few practice throws on the sideline between possessions. But, before San Francisco took over for the second time in the game, Purdy and head coach Kyle Shanahan had a short discussion.
Purdy returned to the game with 12:30 left in the third quarter, but only after fourth-string quarterback Josh Johnson had to leave the game after taking a hit and having his head hit the turf. He would finish the game taking snaps and handing the ball off, occasionally attempting a screen pass but never throwing it downfield again in the contest.
The Niners lost the game, 31-7, and Purdy was left with more questions than answers about his injury status.
With their season over, the 49ers have a quarterback fiasco to work out, with Purdy, Jimmy Garoppolo, and Trey Lance all on the roster.
A few NFL execs, both current and former, weighed in on the matter with The Athletic's Mike Sando and had some interesting insight.
"Everybody knows that (49ers coach) Kyle Shanahan will make moves," an exec told The Athletic on Sunday night. "He is involved in everything, all the time. He made the exploratory call to Green Bay on Aaron Rodgers (in 2021). He is a doer, not a talker."
There have been murmurs that Tom Brady is headed to the bay next season, as the 45-year-old is in search of one more Super Bowl ring and is looking for a ready-made contender to help him get there.
"I think they will trade Trey Lance to Tennessee and then they will end up with Brady and Brady will play one year for his home team, and they will have Brock Purdy as the backup," an exec from another team said. "That is the chatter. They have the defense already, Brady wants to win one more, and this is right up the 49ers' alley."
Another source told The Athletic that they think Jimmy G will end up walking out of San Francisco, leaving Purdy and Lance to duke it out, with Purdy being viewed as the incumbent starter.
"They'll let Jimmy G walk, have Purdy compete with Lance, and the job will be Purdy's to lose," an unaffiliated NFL quarterback agent said. "They'll be open to a Lance trade, knowing that is a long shot. Purdy is so much cheaper than Jimmy, they can add players around Purdy now and maybe still develop Lance."
Brock Purdy's cap hit in 2023 is south of $1 million so that indeed would be a major money-saving move for the Niners.
Former NFL General Manager Randy Mueller shared the same idea that Purdy would likely be the guy in 2023, and feels good about it too.
"It'll be Purdy's job to lose, and I don't think there's any looking back," Mueller said.
There might be a lot of moving parts in San Francisco this offseason one thing seems to be a constant: Brock Purdy will have an important role in the organization. If he's not the starter, or at least in place to fight for the role, Purdy will have the opportunity to learn from the best quarterback to ever play the game. What more could you ask for in your second year?